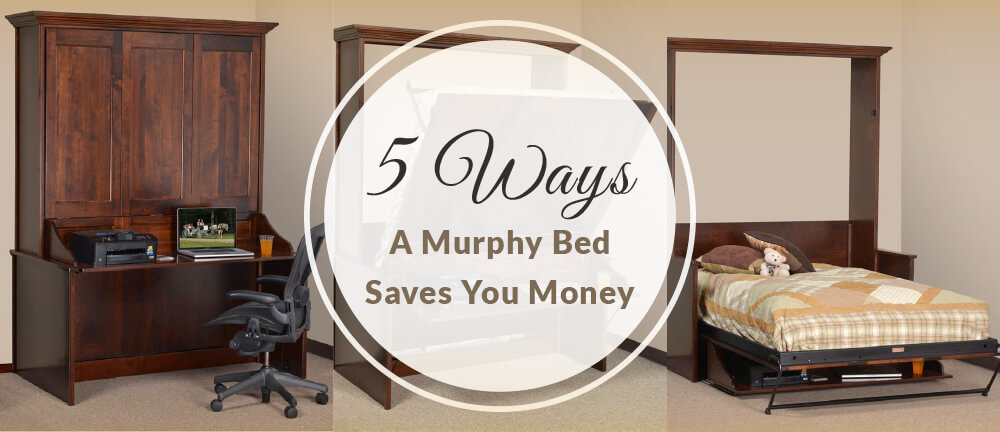 5 Ways A Murphy Bed Saves You Money
There are 5 ways a Murphy bed saves you money. One item of furniture whose versatility and function make it a great fit for several living spaces, a Murphy bed does a lot more than just sit there and look good. The money saving factor is icing on the cake. And who doesn't like to save money?
How the Murphy Bed Got Its Name
Also known as a wall bed, pull down bed or fold down bed, the Murphy bed was named after its inventor, William Lawrence Murphy, and the story of his invention certainly makes it sound like he was a likeable guy. The late 19th century found Murphy living in San Francisco in a small space. He was seeing a young woman at the time, and it would have been unacceptable for a proper young lady to enter a man's bedroom. Well, William's living room served as both living space and bedroom in one, so he faced a dilemma. His solution led to the creation of the Murphy bed, a fold up bed with a pivoting, counterbalanced design. The Murphy bed is hinged at one end so that it can store vertically against a wall or inside a cabinet.
With its ability to transform a space, the Murphy bed is an ideal solution for those with smaller homes, lofts, apartments, or college dorms. It saves both space and money. Here's how.
5 Ways a Murphy Bed Saves You Money
You can forego a box spring.
With Murphy bed's using a platform base, you don't need to buy box springs for them. Platform beds, like the Murphy bed, take a bit of the spring out of box spring sales, since their platform style base means you only need a mattress.
It's a couch and bed in one.
In a room with a Murphy bed, you don't need a couch, since the bed can serve as one during the day if you choose to leave it open. This is especially true for horizontal Murphy beds. There are both horizontal and vertical Murphy beds, with horizontal often including additional storage and display space.
Some include a desk for an instant office.
The Murphy bed has been a multitasker from day one, and models that transform from bed to desk, save the owner the cost of buying a desk or setting up a separate office.
They include additional storage options.
Added storage comes along with many Murphy bed designs, saving money on things like nightstands, dressers, and bookcases as well as file cabinets and credenzas if it's used as a desk too.
It saves you space.
Since Murphy beds allow you to make a bedroom from a small space, you don't need to be in the market for a bigger house with more rooms to fill. Apartments, lofts, and small homes benefit from the Murphy bed's ability to maximize space and keep you comfy in smaller ones. A single room with a Murphy bed means you can create a bedroom, office and guest room all in one space.
Ways to Customize an Amish Murphy Bed
You won't necessarily find this with other Murphy beds, but with an Amish Murphy bed, you can customize to have a bed built that will serve you just right.
Wood Type
Amish made Murphy Beds are available in a variety of wood types, including rustic wood options. Just order samples to help you find just the right wood type and grain pattern for your home.
Stain Color
Stain enhances the wood grain pattern that's unique to each wood type. There are a variety of stain colors to choose from.
Custom Storage
The option to add bookcases, drawers and shelves make Amish Murphy beds all the more appealing.
Pick Your Size
Many Amish made Murphy beds are offered in Twin, Full and Queen sizes, like the Amish Murphy Bed New 2020 Design.
Keep in mind when shopping for a Murphy bed to measure your ceiling height for the right fit. Take note of any fans or lighting fixtures that you'll need to work around so that the bed does not hit them when it's being opened or closed.
While the up front cost of a Murphy bed may seem steep, remember: you don't need a box spring, you're investing in a multitasking piece of furniture with storage, and you can even create a guest room, bedroom and office set up with just one piece of furniture.
For those with small homes, apartments, mobile homes, or lofts, the Murphy bed was made for you. Who knew that the Murphy bed would save money for so many when Mr. Murphy was just trying to figure out how to have his girlfriend visit properly?