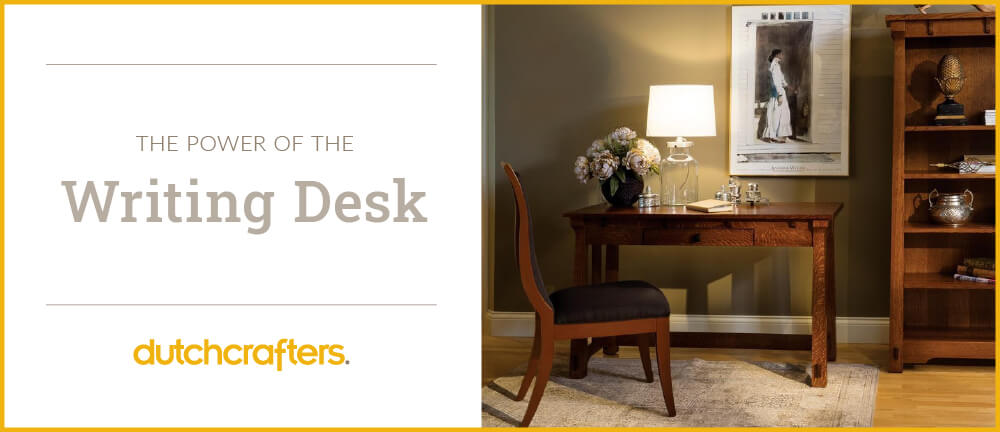 The Power of the Writing Desk
The power of the writing desk lives in its versatility. The writing desk has been around a long time, before computers were ever on the scene to alter the look and function of the desk.
A writing desk's versatile nature means it can be used in many ways from a functioning work area to a style piece that makes a statement in different areas of the home. And with more work from home coming into play, furniture that can multitask has become worth its weight in gold.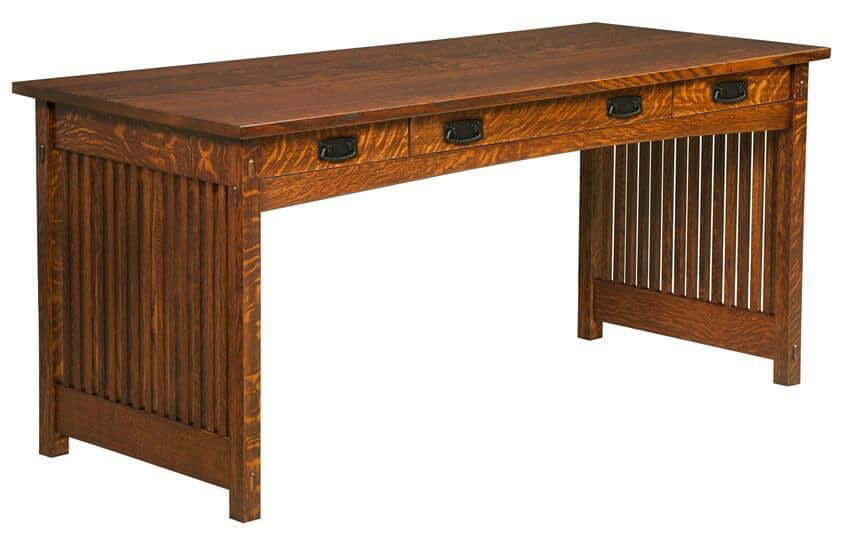 Writing Desk Designs
Writing desk designs can invoke visions of an artist and writer tackling the task of creating, and many are just right for that. Writing desk designs are sophisticated and perhaps can inspire and stimulate the imagination. Others, and likely the majority, are used to carve out a simple work space, some fitting a limited space just right. The more traditional style writing desks are used to draw some attention to spots in the house like the home office, living room, entryway or den.
A writing desk provides a flat surface to work at, and some have a drawer or two for storage. They don't offer a lot of room to spread out, usually enough space for your laptop and a notebook perhaps. If you're looking for room for computer equipment or additional storage, a writing desk is not the design for you. If you'd like to use a writing desk for paying bills and working on your laptop, consider adding a small hutch with compartments for storage, or be sure there are a few drawers that can offer space.
Let's look at different ways to use writing desks.
Entryway
Trying to find a way for your foyer to stand out? If space allows, a writing desk can contribute to an attractive entryway, with style elements that will make a statement. In addition, there's a surface to set down a purse or briefcase upon entry, plus a few drawers make a good spot for keys and mail.
Bedroom
Perhaps you don't have a home office or room in the living room for a work space. A quiet bedroom corner with a small writing desk can create the perfect spot for bills, correspondence and laptop time.
Home Office
Of course the home office is a great place to set up a writing desk. Conduct work, get creative and balance the office with a writing desk centerpiece.
Living Room
The living room is another great place to set up a small writing desk and create a workspace where you need one. Their versatility lets them blend in nicely with other furniture.
Writing Desk Benefits
A Versatile Choice
Whether you use them in a quiet corner of the bedroom or in the den, the writing desk design fits in nicely. Some writing desks styles look a lot like tables, and they can be used for work, crafts or other projects.
Sizes and Styles
Writing desks are available in a number of sizes and styles, making them popular for a variety of areas all over the house, from office to entryway to bedroom or living room.
Multitaskers
Writing desks can serve as desk, work table or craft space, and depending on the design, can add a little storage too.
Amish Writing Desks
Amish-made writing desks are handcrafted with premium quality woods. They're full of strength and function, supported by fine craftsmanship. There's a range of styles available, from traditional elegance to Mission style simple. Amish writing desks can be customized to match your office, living room or bedroom. There's a variety of wood types and stain colors to choose from, along with a variety of sizes to fit your space. Additional custom options that add to a luxurious look include leather inlays for the desktop, grommets and power stations so you can plug in.
Consider the writing desk for a modest workspace with or without storage drawers, depending on your needs. They are a powerful choice to offer function and attract attention with their designs.