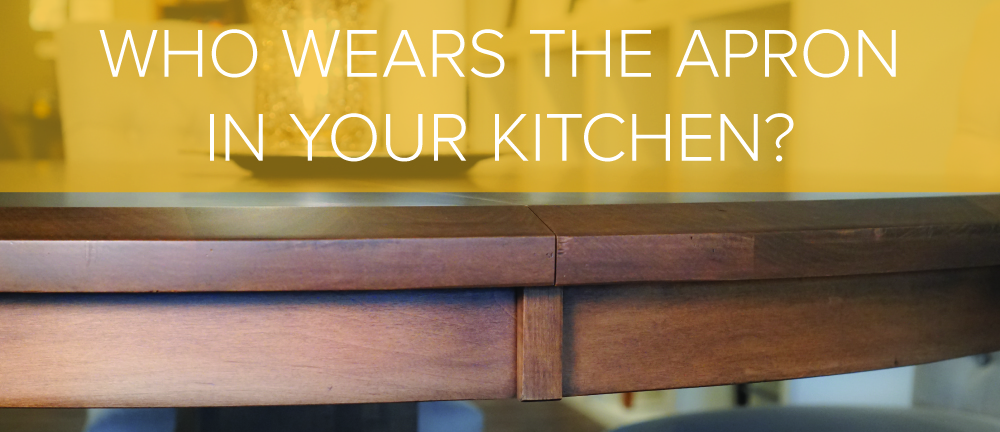 Who Wears the Apron in Your Kitchen?
Table aprons. What are they? What is their purpose? How do they help the kitchen or dining room table do its job?
Table aprons, (also called table skirts or skirting) are wood extensions that sit right below the surface of the table. Picture your table top and the part that hangs down from it. This is the table's "apron" or "skirt." Aprons can range from 1 ½" to 3".
Aprons can display different carvings that add to the beauty of the table while they conceal the mechanical parts right underneath. Amish tables offer lovely aprons along with some options for extensions that can store with or without the apron.
Different table apron styles.
Reasons Your Table is Wearing an Apron:
Provides support for the table top.
Contributes to the look and style of the table.
Conceals table elements like corner blocks and mechanical pieces from view.
The table apron adds to the richness of the table.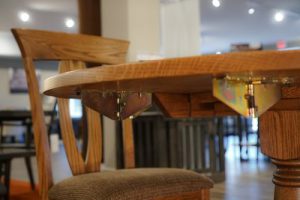 This drop leaf table has no apron, exposing the mechanics underneath.
Table Apron Examples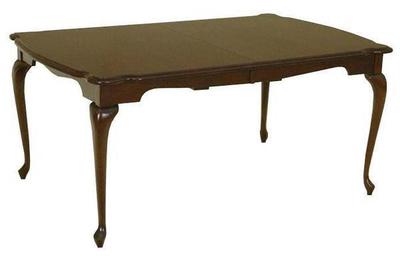 The Amish Queen Anne Dining Table wears a formal style apron. Formal aprons may include scalloping, routing or beading.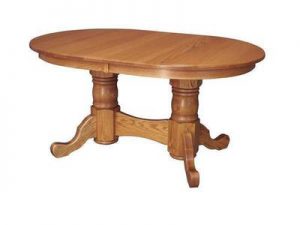 The apron on a round or oval table like the Amish New Bern Double Pedestal Dining Table is amazing. The apron is one solid steam bent piece of wood that curves.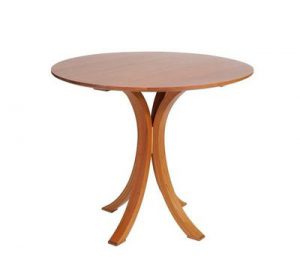 Do Extensions Wear Aprons?
When you need table extensions for hosting larger parties, you can get aprons added to them. Some dining tables self-store extensions with aprons and some do not, or some tables will self-store some extensions with aprons but not all of them.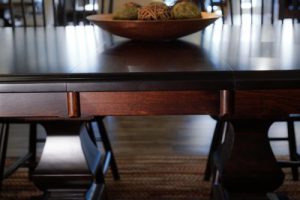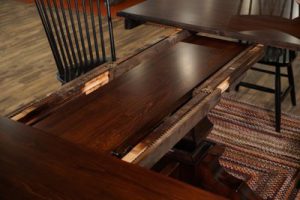 The extension with apron stores in this table.
Important things to keep in mind when deciding on aprons for your table extensions:
How often will you be using the extensions?
Will you be using a tablecloth?
If you only use the table for special occasions or you use a tablecloth you may not need the table apron added since a skirted extension is not often seen.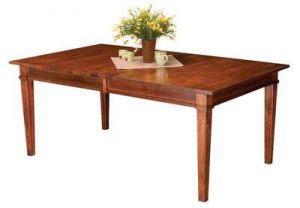 What About Gap Covers?
Gap covers are small pieces of wood that cover the space in the aprons where the two halves of the table meet.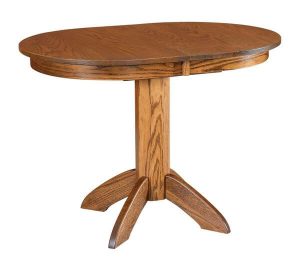 Here's what gap covers do:
Allow for expansion/contraction of the wood (remember wood is a natural material that responds to its environment-it is going to move.)
Add a decorative element to create a uniform look for the table.
Cover gaps between extensions.
Cover the gap for a completed look when leaves are not placed in the table.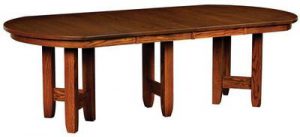 It's important to note that a gap beyond the gap cover does not mean something is wrong with your table. Contraction of the apron may leave a small space. We would recommend adjusting the humidity in the room to help with this.
The table apron (or skirt) and the gap cover are two of the details that set Amish craftsmanship and solid wood furniture apart from the rest.