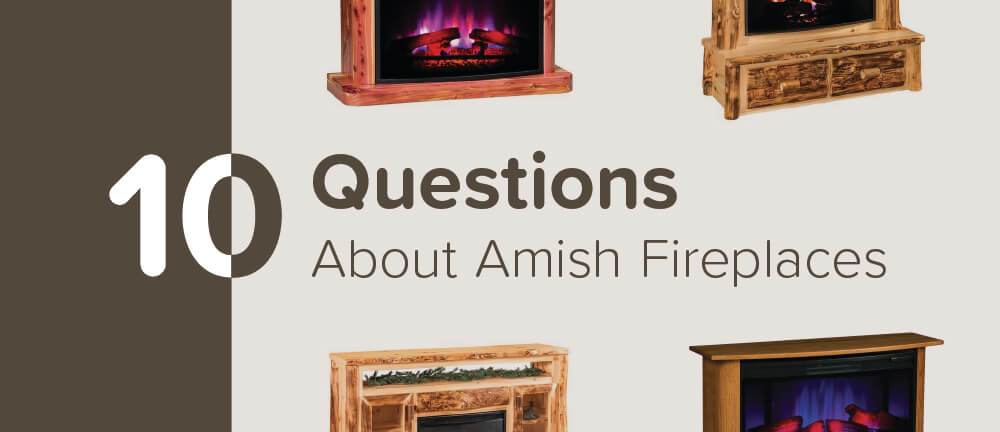 10 Questions About Amish Fireplaces
Amish fireplaces have become a popular item in homes across the country. All of our Amish made fireplaces include electric units, eliminating clean up, increasing safety, saving money and warming the rooms where families spend time together. Each fireplace adds exquisite solid wood style and fine craftsmanship to the room where it is placed.
Offering a variety of standalone fireplace units, as well as fireplaces built into entertainment centers and TV stands, we get lots of questions on the specifics of Amish fireplaces. How much space will they heat? What's assembly like? How do I control the temperature? Are they covered under warranty?
We want you to feel relaxed, warm and cozy about using your Amish fireplace, so here are answers to your electric fireplace questions.
10 Amish Electric Fireplace Questions
How much space will an Amish fireplace heat?
Most heating units feature 5,200 BTU heaters. BTU stands for British thermal unit and is defined as the amount of heat needed to raise the temperature of one pound of water by one degree Fahrenheit. These heaters can warm up to 1000 square feet.
How do I control the temperature, and can I change the flame display?
You can change the temperature manually by pushing a button, but Amish fireplaces also come with a remote control that allows you to change the heat setting from the comfort of the couch. Select a comfortable heat setting as well as five different flame displays. Energy efficient LED lights are used to illuminate the flame display. You can opt to use the heat only, flame display only, or use them together and all can be controlled with your remote.
Is there an automatic shut off feature?
Amish fireplaces do have an automatic shut off feature. You can schedule your fireplace to shut off anywhere from 30 minutes up to 9 hours.
Are electric fireplaces clean air quality?
Amish fireplace units are energy efficient. You don't have to worry about them emitting any hazardous fumes or byproducts. The natural humidity in the air is maintained through the use of infrared quartz heat that won't dry out the air in the room.
What are the electrical requirements? Do they fit in a standard outlet?
Amish electric fireplaces are portable and you just plug them in. They typically feature a 1500 watt heater that you can plug into a standard 120 volt outlet. We suggest using a dedicated circuit breaker or fuse. You don't want other items that need to be powered pulling from the same circuit. Do not use an extension cord or surge protector for your unit.
What is zone heating?
Zone heating focuses on warming a smaller area versus the entire house and using an electric fireplace is an ideal way to do it. You might be able to save money on your electric bill by turning down the heat a bit and using an electric fireplace in rooms the family uses the most. This works great for homes in the south that have a short winter season. Opting for an electric fireplace can be just the solution to adding some extra heat during the cold months versus heating the entire house continuously.
What types of fireplaces do you offer?
Amish fireplaces come in standalone units with handsome mantels. They are built into TV stands and entertainment centers, offering added storage around your fireplace. There are even true rustic electric fireplaces made with hickory and cedar wood that are perfect for log cabins and cozy getaways. With Amish fireplaces you also have the option to customize them with wood and finish that work best for your home décor.
Do Amish fireplaces have to be assembled?
Amish fireplaces do not have to be assembled, which is a beautiful, glowing feature in itself. No assembly is required for fireplace units and they are delivered to you ready to plug in! (Note: If you are purchasing a fireplace that's part of an entertainment center, those pieces would have to be put together, but your fireplace insert will be in place.)
Can they catch on fire? Can the top shelf get too hot?
Even with your fireplace warming the room, all glass fronts on Amish fireplaces feel cool to the touch. The only part of your fireplace that will get hot is the metal grate that's just above the glass front. You'll be able to see it glowing bright orange.
The fireplace unit has a "Safer Sensor" that utilizes fire prevention technology to alert you if the heater is obstructed. Your unit will automatically shut off to prevent any damage.
What kind of warranty do they come with?
Many of our fireplace units come with a 1 Year Limited Warranty on the electric fireplace insert.
With no smoke or ashes to deal with, no special tools needed and no fumes to worry about, Amish fireplaces make having a heating unit easier. In addition, they contribute to the style of a room, offer added storage and display space, and don't forget, at DutchCrafters you can customize yours to fit your home perfectly.
Hopefully, this answers your questions about Amish fireplaces. If not, please email us at questions@dutchcrafters.com or call our team today at 1-866-272-6773.
​