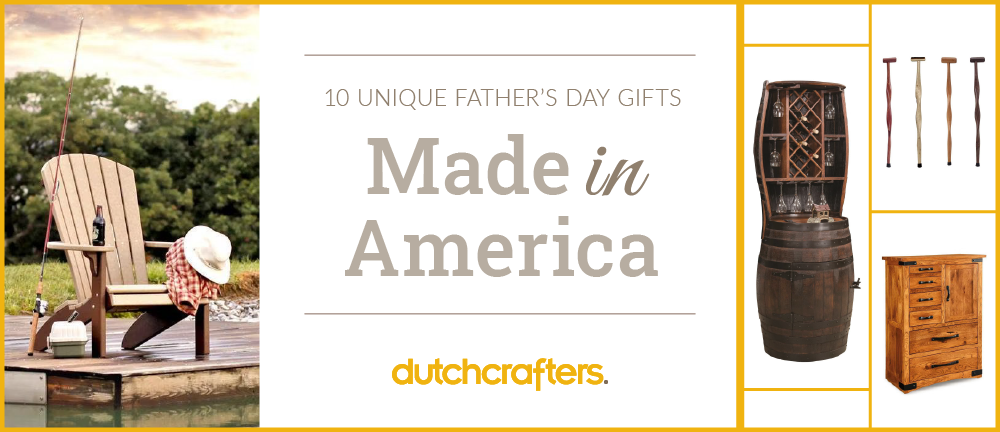 10 Unique Father's Day Gifts Made in America
Looking for a unique Father's Day gift that's made in America? You've come to the right place. All the gifts listed here are handcrafted in Amish country, in woodshops located in Pennsylvania, Indiana and Ohio. Lots of them are customizable, offering different features and functions. For dads and granddads alike, there's sure to be a unique gift here that will stand out from the rest.
Amish Rustic Half Barrel Wine Bottle Holder
This unique wine storage barrel is handcrafted in Ohio. It holds 15 bottles of wine with handy little shelves on the sides for wine glasses.
This Amish Barrel Hutch with Wine Rack goes even further with rustic style. It holds seven bottles of wine and even has a Lazy Susan inside the cabinet!
Amish Complete Coffee Bar
Maybe Dad is not a wine drinker and prefers his coffee instead. This cool coffee bar is Amish made in Ohio. What makes it unique aside from the gorgeous solid wood craftsmanship? There's a pull out extension tray, a cool chalk board, built in board for coffee pods, towel rack on the side AND a pull out trash bin with additional storage shelves.
Amish Hardwood Magazine Stand with Swivel and Storage
For Dad's magazines, papers, catalogs and more, this is more than a magazine stand. Amish made in Indiana, unique features include the swivel so Dad can conveniently turn to the reading material he wishes to retrieve. There's also three spacious storage drawers, a trash bin and tissue box built in for sad novels he likes to read or when his favorite team loses in the playoffs.
Amish Shaker Coffee Table with Lift Top
This shaker coffee table converts easily. Its smooth action lift top mechanism helps this table go from table to workstation, hosting Dad's laptop or as a dinner table as he watches the news. It is Amish made in Pennsylvania and built in choice of wood and stain.
Amish Solid Wood Simple Sofa Server
Is Dad in a condo or apartment with limited space? Maybe there's not room for a coffee table or full size end table. The sofa server is perfect for hosting Dad's drink, remote, glasses or reading material near his comfy sofa or chair without taking up too much space. It's a tabelette built in Indiana in choice of wood and stain.
Amish Rustic Hickory Wood Rocker
Handcrafted in Indiana, the rustic look of this rocker is unique in itself. The comfort and support it provides is a step above the rest. The hickory wood and twigs used for this rocker are carefully chosen and steam bent to perfection. Each one is unique with no two the same.
Amish Orewood Gentleman's Chest
Yes, they do still make gentleman's chests, and men's wardrobes have a lot to offer. Why wouldn't Dad need his own chest with a variety of compartments? Amish made in Indiana, the Orewood features a fresh look that fits a number of styles, rustic, industrial and contemporary included. Not only does this gentleman's chest offer six drawers and two shelves, there's the option to upgrade to luxurious soft close drawers and add a secret compartment. It is built in choice of wood and stain.
Amish Poly Fan Back Adirondack Chair
Amish made in Pennsylvania, this Adirondack chair is beautiful for fishing, camping, sitting by the fire pit or out in the backyard, or general overall relaxation. What's unique about it? In addition to the Adirondack design that's made to handle any terrain with balance and support, this chair is made with poly lumber. Poly is made from recycled plastic, making this gift an eco friendly choice. Poly won't split, crack or fade. It's available in lots of colors from neutrals to bright colors, and it's easy to maintain with a little soap and water on occasion.
Amish Cape Henry Poly Garden Lighthouse
This lighthouse (also an eco friendly gift idea made with poly) is a great fit for dads who like a nautical theme. The Cape Henry is available in a variety poly color combinations and sizes, and is Amish made in Ohio.
Amish Hardwood Twisted Walking Cane
Does Dad or Granddad enjoy walking park trails or other terrain? This handcrafted walking cane is Amish made in Indiana and has a unique, twisted design. It's made with choice of cedar, cherry, hickory, oak or walnut wood and is truly a work of art.
And here's the cane with a handle if preferred.
There you have it, 10 unique Father's Day gifts made in America. Wishing a very happy day to all the dads out there.