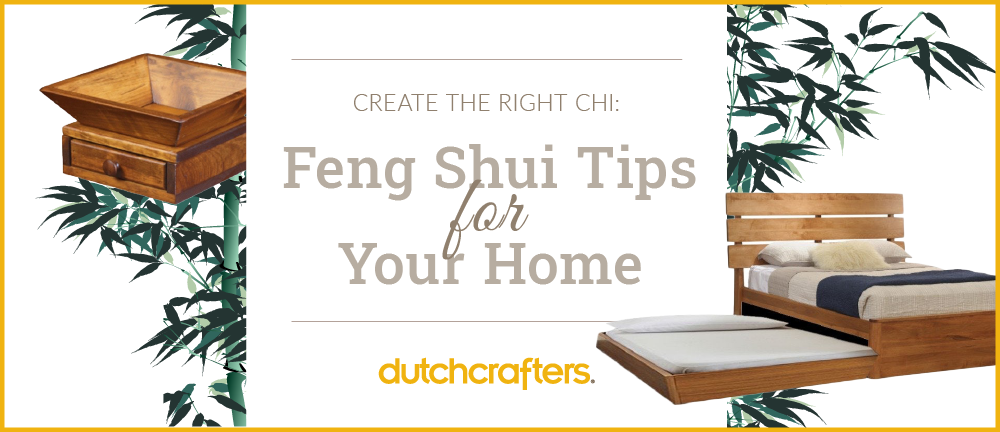 Create the Right Chi: Feng Shui Tips for Your Home
Your home is your haven. It's your personal space for living, laughing and loving with family, friends and loved ones. The art of feng shui aims to fill your home with warmth, comfort and everything positive. Whether your style is contemporary or country, transitional or formal, the principles of feng shui offer help to provide balance and the right flow of positive energy throughout your home.
What is feng shui?
The practice of feng shui is a system of laws governing spatial arrangement and orientation in relation to the flow of energy. It is a Chinese philosophy that attempts to harmonize everyone with their surrounding environment. The goal of feng shui is to arrange the home environment to produce the best possible balance and flow of life energy, allowing you to lead the happiest and most prosperous life possible.
About the Chi
The "chi" is known as the life force energy that flows throughout your home and affects how you feel and think. Feng Shui looks to arrange your environment to have a positive influence on the chi that flows through it. Maximizing the positive chi and minimizing the negative chi can help keep you and your family happy and motivated, according to feng shui principles.
Getting started with feng shui
There are five power principles to help you get started with the practice of feng shui and creating a balanced flow of chi in your environment.
The Power Principles
Chi: Assess the energy in each room by evaluating how the arrangement of the room makes you feel.
The Five Elements: This is the feng shui term for colors and shapes around you and what they bring to your life.
The Five Elements are:

Fire: Representing passion and emotion and expressed in reds and oranges and a triangular shape.
Earth: Represents stability and balance expressed in browns and yellows and a square shape.
Metal: Represents strength and focus expressed in metallic and white and a round shape.
Water: Represents relaxation and flow expressed in deep blues and black and a curving pattern or shape that indicates motion.
Wood: Represents growth and vitality expressed in greens and a rectangular shape.

The Bagua: This mapping chart divides your home into nine areas to help determine where to place furniture and objects that represent the five elements. The nine areas are called: Wealth, Future, Love, Children, Helpful People, Career, Harmony, Family and Well-Being.
Yin and Yang: The theory of Yin and Yang suggests that these two opposing forces exist within the universe and it is important to balance them. The Yin represents feminine characteristics that are soft and nourishing while the Yang represents masculine characteristics that are active and aggressive.
Continuity and Connectedness: This power principle suggests a positive effect comes from your connection to the natural world as well as the idea that your surroundings can directly influence how you feel as well as what you will attract in your life.
Create a balance of life force energy with these practical, easy tips that offer modern ways to bring feng shui to your life and home.
Feng Shui Tips
Reduce Clutter: Clutter is a hindrance that can cause stress. Get rid of things you don't need, and invest in storage solutions to keep you organized. Reducing clutter creates better air flow and movement of energy.
Let the Light Shine: Let in more natural light to lift spirits and promote a positive energy in any room.
Pick Some Plants: Use some air-purifying plants in any room to promote good health. Spider plants, English ivy and Boston ferns are great choices.
Bring Nature In: Wooden furniture brings a natural balance to your home environment.
Add Art: Select artworks that represent things you want to come to your life.
Choose Positive Colors: Colors can affect your mood. Bring them in with furniture and accessories.
Feng Shui Colors
Red: This stimulating color brings excitement and joy. Use red wherever you want to boost energy in the room. Do not use too much red in the bedroom as it should be a relaxing, restful place.
Yellow: Yellow is uplifting and helps to dispel negative energy. Yellow is cheerful and optimistic and a great choice for kitchens.
Blue: Blue is a peaceful and soothing color representing spirituality and patience. It is good for reducing stress and is a perfect choice for bedrooms.
Green: Green stands for growth and is a nourishing color that brings a restful balance to the room. It is perfect for living rooms, bedrooms, and bathrooms.
Black: Black symbolizes power and mystery. While black represents independence, it can bring a dark mood to the room. Black must be balanced with other colors to have a positive effect.
White: White is pure and clean and symbolizes innocence and new beginnings.
Brown: Brown brings a safe and stable element to any room.
Orange: Orange is ideal for dining rooms, living rooms and hallways as it is a stimulating, social color that brings good cheer to the room.
Purple: This color has a calming effect.
Pink: Romantic, happy and soothing, pink is a beautiful color that works anywhere in the house.
Feng Shui Furniture Rules for Rooms
Feng Shui Foyer
The entrance to your home lets in energy. A light, spacious, organized foyer allows good chi to flow into your home.
Feng Shui Kitchen
Keep drawers, cabinets and pantries organized. This area that nourishes should be well lit and bright and offer a warm welcome. Keep it simple and avoid overloading your kitchen space with gadgets. The kitchen is important for health and well being and should be kept clean and uncluttered. Avoid having a kitchen too close to the front or back door where good energy can escape. A kitchen close to a staircase or directly under an upstairs bathroom is not good feng shui.
Feng Shui Living Room
Since the living room is used for relaxation and entertainment, the placement of the seating is very important. The furniture should be arranged for conversation and good function. The living room sofa is the most important and should have a wall behind it, if possible. If the sofa is not backed by a wall, a bookcase or table can be place behind it for stability. The television should be stored in a TV stand or entertainment center that closes when not in use.
Feng Shui Dining Room
With the dining room being a social area, feng shui looks to stimulate healthy conversation as well as the appetite. Good quality solid hardwood is recommended for your dining room table with an even number of dining chairs placed around it. Select an oval/circular or a square/rectangular shape for your dining room table. Be sure it is solid wood with no glass top. The dining room should be close to the kitchen and large enough to seat everyone comfortably.
Feng Shui Bedroom
Feng Shui looks to support your rest time with calm energy. Use soothing colors in your bedroom like earth tones and natural colors. The bed should be placed in the commanding position in the corner of the room diagonally opposite the bedroom door. Solid wood headboards are recommended to offer strength and support behind you as you sleep. Televisions and electronics are not recommended in the bedroom, but if the TV is in the room, house it in a TV cabinet or armoire that has a closing door. It is recommended to have two nightstand tables, with one on either side of your bed to provide balance. Consider soft lines and curves for a relaxed environment.
Feng Shui Office
Good feng shui recommends that your home office be as far away from your bedroom as possible in order to keep your business and home life separate. A desk should be in the commanding position or power spot which is the area opposite the door. Your back should not be to the door when you are working. A storage and filing system that is easy to use is essential as well as a comfortable desk chair. Add healthy plants to help keep the air pure as you work.
Feng Shui Patio
Select square, round or rectangular shaped tables for your patio. Arrange furniture to welcome discussion, and make sure walkways are unobstructed. Benches and chairs should not have their backs toward the patio entrance, and the position of the seating should provide a good view of the rest of the patio. Keep all outdoor plants watered and healthy.
There are many elements involved in the practice of feng shui, but ultimately, it's about creating the best environment that makes you feel happy and healthy. Surround yourself with art, keepsakes, and colors that bring you joy. Don't forget your own style and be sure to incorporate objects you enjoy having around such as candles, cozy linens, relaxing music and special family photos. These feng shui tips provide a basis for feng shui principles as well as suggestions for arranging your solid wood furniture to let the good chi flow throughout your home.