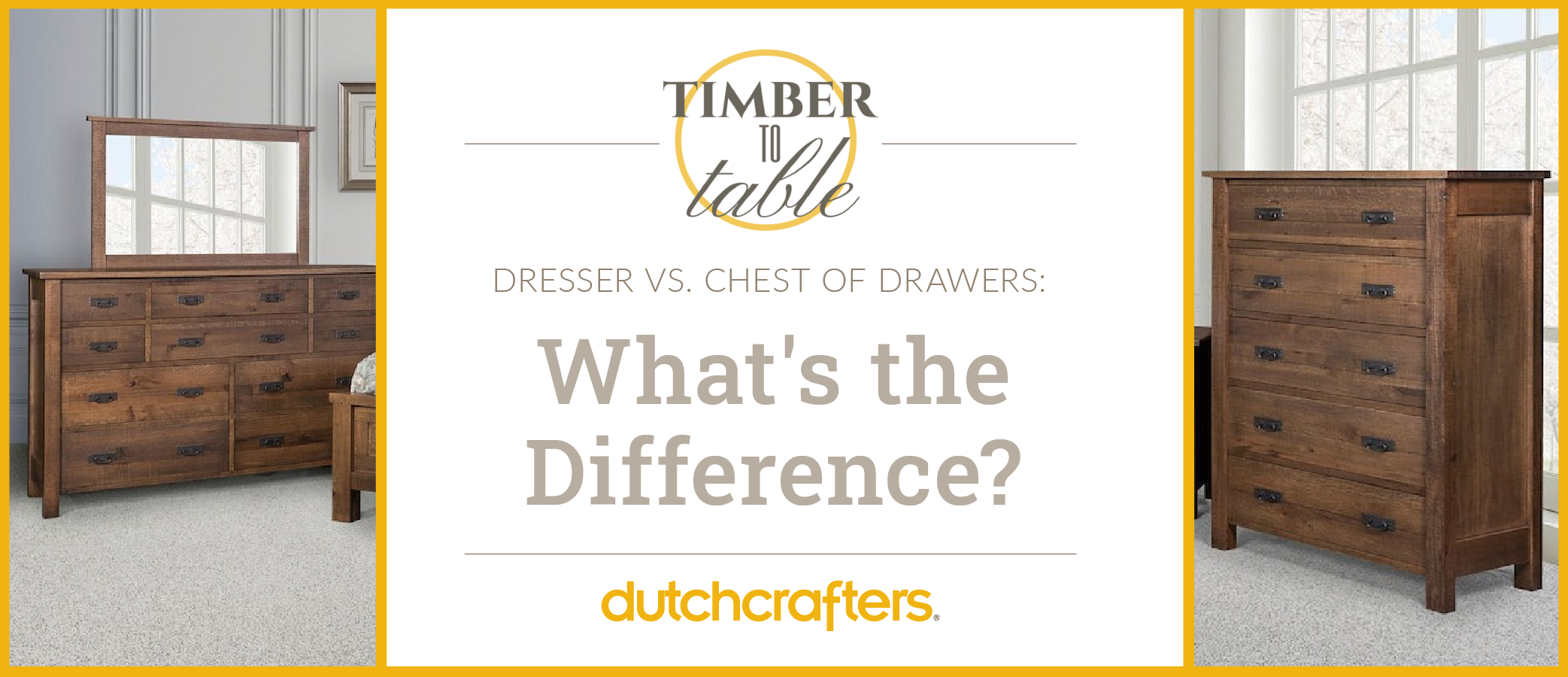 Dresser vs. Chest of Drawers: What's the Difference?
Two popular furniture items for bedroom storage have always been the dresser and the chest of drawers. Either one will do for keeping clothes in, right? Is there truly a difference? Is one a better option than the other? While the terms dresser and chest of drawers are often used interchangeably, there's a bit more to the dresser vs. chest of drawers argument. Here's how they differ and what makes each appealing.
Dresser Design
A dresser is a large set of drawers. You'll need space in the bedroom for a dresser. A dresser is short, deep and long. Standard height of a dresser is 35" with some standing taller than that. They can be as deep as two feet to create adequate room for bulky items. Dresser lengths can range from 30" to 70", and with measurements like these, the dresser requires some room.
Dressers offer storage drawers, with two to four long drawers and two to three rows of shorter drawers, or a combination of shorter and longer drawers, depending on the style and design. Dresser drawers can range in number from four up to nine with different combinations in between. Dressers are more often used for clothing. Being waist high, they're ideal as dressing tables too.
The fact that dressers are short creates added benefits. The surface of the dresser not being too high allows for the user to host items like jewelry boxes, hair brushes, combs, make-up cases, and perfumes on top where they can be easily reached. There's room to position a mirror over a dresser to create a nice spot to get ready and view your appearance before heading out. For those who like a TV in the bedroom, a dresser's height allows it to serve as the perfect host for the television. A dresser's dimensions help to create area to display décor and photos as well.
Dressers contribute to the style of the room. Being bigger than chests of drawers, a dresser can have almost as much pull as a bed when it comes to contributing to the style of the room.
Dresser Benefits
Stores and organizes clothing and accessories
Can add a matching mirror
More surface space to display items
Offers more drawers than chests
Offers different size storage drawers
Dresser Drawbacks
Require more room
Not as versatile as chests of drawers
Chest of Drawers Design
Chests of drawers, also referred to as chests, are taller and narrower than dressers. They offer a single row of storage drawers that are usually stacked, making use of vertical space. A chest of drawers usually offers four to six drawers. They take up less width space than dressers, making them a more appealing means of adding needed storage for smaller bedrooms.
Chests of drawers can range from 44" to 60" tall or higher and widths can range from 24" to 38" wide. They're usually not as deep as dressers.
Chests of drawers offer enough versatility to make them a storage option in other areas of the house. They can be used in the living room for a variety of items or the office for office supplies and accessories. Clothes, books, and toys can be housed in a playroom or children's bedroom. If there's less space to work with, a chest of drawers can be just right for adding needed storage.
Chest of Drawers Benefits
Take up less width space than dressers
Work well in smaller spaces like condos or apartments
Can be used in other rooms besides the bedroom
Chest of Drawers Drawbacks
Offer less storage than dressers
Higher surface makes displaying items on top less appealing
Dresser and Chest of Drawers Compared
While both serve up storage for clothing and other items, the dresser offers more storage drawers in different sizes. The variety of drawers is ideal folded clothing, linens and accessories as well. The chest of drawers may venture out of the bedroom, providing room for blankets, toys in a playroom, or candles and assorted items in the living room.
Dressers are a high function piece of furniture with a timeless appeal. They make more of a style statement than a chest of drawers, but chests of drawers offer more versatile storage that can be used in other rooms. When considering the dresser versus the chest of drawers, take into consideration your available space, your preferred style and how much storage you need.
What about using both?
For bedrooms that have the floor space and individuals that need plenty of storage, both a dresser and chest of drawers can be used. You'll find both pieces included in many stylish bedroom sets. It comes down to personal preference and how much storage is needed.
Which works best for you? A dresser or chest of drawers?