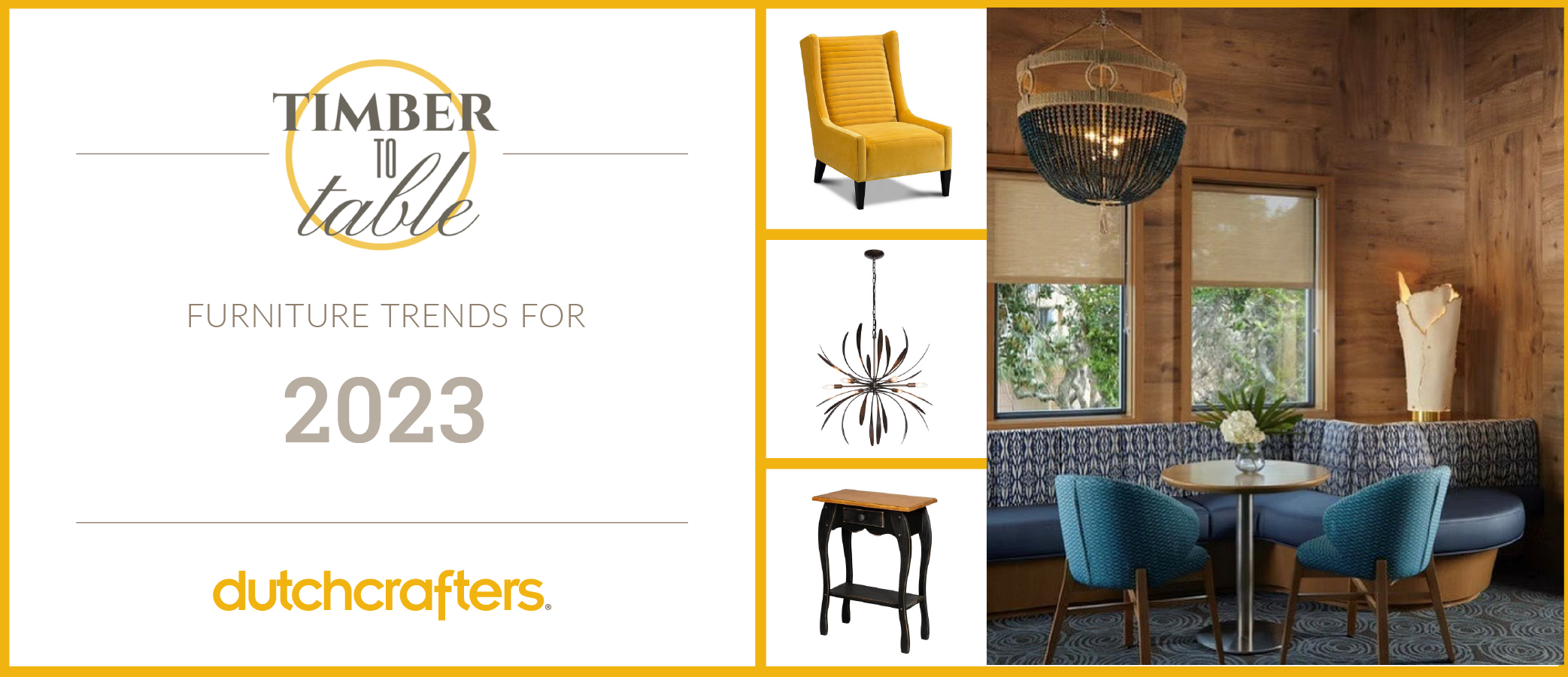 Furniture Trends for 2023
Every year furniture trends and fresh ideas for interior design emerge. We love seeing new furniture designs coming from our Amish woodshops across Indiana, Ohio and Pennsylvania. Amish woodworkers are always studying what customers want and flexing their artistic talents to create wood furniture in all designs with the latest functions. This year's list of furniture trends bring forward some from last year while introducing some new exciting looks and concepts.
Without further furniture adieu, here are the furniture trends we've noted and are excited about for 2023.
Infusing Personality
While it's fun to fall in love with a particular furniture style, furniture collections and interiors will reflect more of our personalities in 2023, whether that consists of perfectly matched sets or eclectic groupings. Your rules will reign with the colors and textures you choose. The use of wallpaper will increase and add texture to walls, while paint colors are expected to be brighter and bolder than previous years. We'll be creating comfy spaces by displaying personal items and collections, more art and a mixing of old and new. The popular minimalist look may take a few steps back for rooms that portray more character with the use of items we love.
Natural Materials Throughout the Home
We love this trend for 2023, as DutchCrafters is home to natural, wholesome solid wood furniture. We will see more natural materials like wood, clay, stone, silk, cotton and more. Natural elements add comfort to a room with their authentic look and feel. Natural materials like wood add to the warmth of a room, and wood is always in style. Stone counters and surfaces will utilize materials like marble and granite. Stone flooring and wood cabinets will be popular. The use of pine wood will become popular. To showcase natural stone looks, add terra cotta pottery and vintage ceramic vases.
Basic Black Booms
Black accents will be used a lot this year. Black is a popular pick for accents this year and it's a good go-to color for any room. Look for more black hardware to create contrast with a touch of sophistication that anchors the design and invites the eye to linger. Accent pieces in black will also contribute to room scenes. Other ways to add black? Try lamps, cabinets and artwork.
Sustainable Living Revs Up
More and more people are looking to furnish their homes with sustainable products. As a company that sells solid wood furniture, we love that more people are embracing this trend. Homeowners are looking for long-lasting materials and energy efficient appliances. They are embracing furniture that's kinder to the environment. How a product is made is becoming important information as people welcome this trend. There will be more interest in knowing that a product comes from local or regional sources and who is making it. Fine craftsmanship is valued because it lasts longer, and its design details are unique. Cheap, quickly produced, throwaway "fast" furniture is being cast out, while seeking slow furniture that shows quality and is built to last is in. Investing in quality furniture, whether new or used, will become a practice that pays off in added value.
Statement Lighting
Statement lighting started coming on the scene last year and continues as a trend for 2023. Lighting fixtures that pose as works of art will uplift spaces. Sculpted designs and innovative materials will be combined. Look for oversized fixtures and creative new shapes made with unique materials. Lights will be all about adding to the style of the room versus just providing light.
Art Deco Influence
While the minimalist look is still popular, some households are ready to decorate. Art Deco influence will flow, with more ornate details, bright and bold colors and shapely patterns. We won't see as many neutral hues. Instead, spaces will brighten with the use of color for paint, wallpaper and home décor. Some rooms will move from soothing quiet colors to statement-making brights that are energizing and cheerful. Creating contrast with color infuses warmth and adds a lift. Color will be used in various ways, from large solid color pieces of furniture to colorful artwork and accents.
We hope you enjoy the furniture trends of 2023. Do you have plans to create a new room design for 2023? We would love to hear about it.