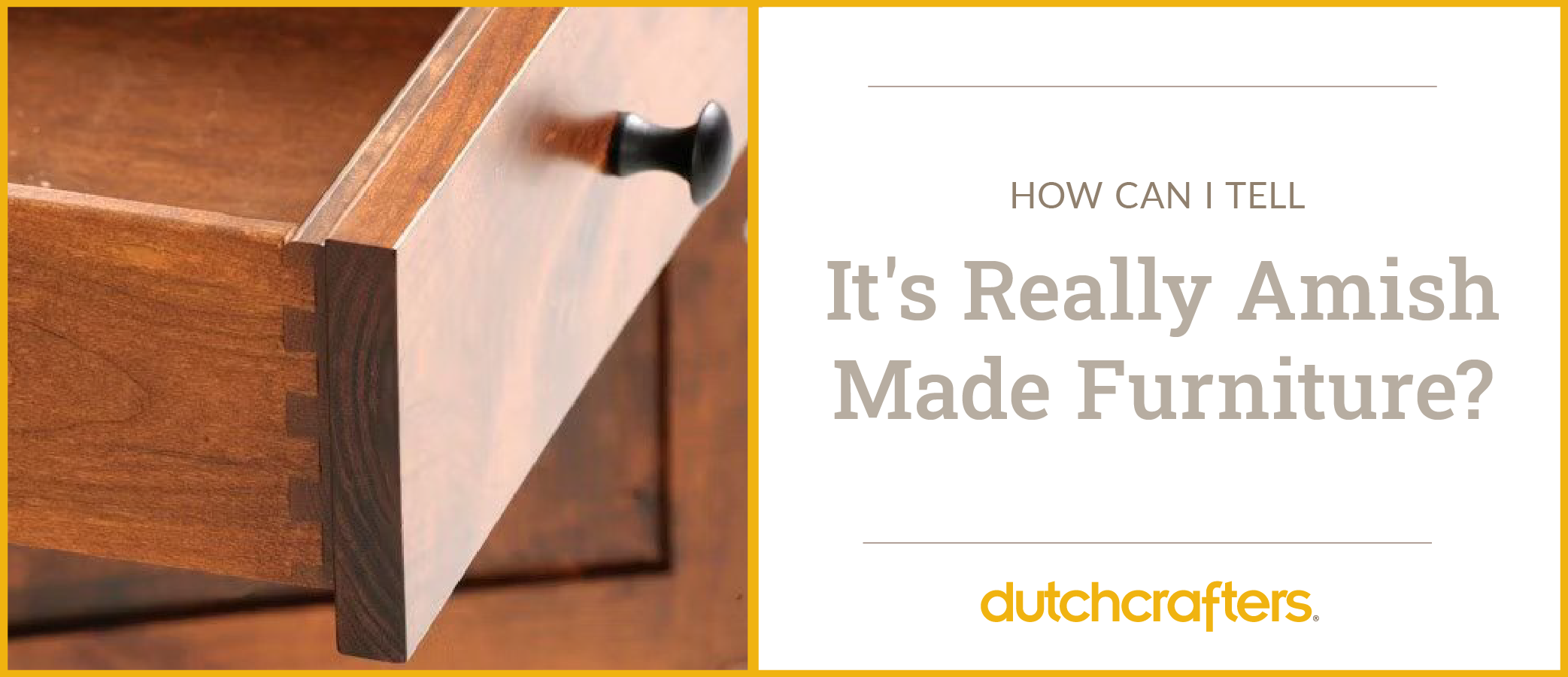 How Can I Tell It's Really Amish Made Furniture?
The secret is out and has been for a while. Amish furniture is high quality. It's the kind of furniture that's built so well it can be passed on for generations to enjoy. Another secret that's out is that custom Amish furniture costs more. If you want to bring home this caliber of wood furniture, it will cost more than furniture made of lesser materials. You won't find Amish furniture in big box stores or department stores. It's the type of product you'll find in specialty stores and online. Once you find it and accept the cost for quality, you might ask a question that we sometimes get here at DutchCrafters, which is, "How Can I Tell It's Really Amish Made Furniture?"
We're happy to offer you some help in making sure you're getting authentic Amish furniture. Here's what to look for.
Solid Wood
Authentic Amish furniture is made of solid wood. No particle board. No wood substitutes. None of the lesser materials will measure up to solid wood. Amish craftsmen only choose the highest quality solid wood. Solid wood means top performance, and the Amish will accept nothing less. You'll have options to pick from solid oak, cherry, maple and walnut among other fine woods. You'll find the same type of wood used throughout the piece. The question of plywood comes into play and the truth is, Amish craftsmen do use plywood. The reason they use it is that it allows for the natural movement of wood. Real wood furniture will respond to its environment. It will expand and contract in response to moisture in the air. Plywood is used in storage pieces like dressers and in the bottoms of drawers. Craftsmen use high grade plywood to allow for the movement and prevent any cracking. This plywood should will have layers that are pressed together. This provides added reinforcement. High grade plywood used in Amish furniture is usually made with the same wood as the rest of the piece. There is a difference between high grade plywood used by skilled craftsmen and poor quality plywood that's thin as in fiberboard, particle board and medium density fiberboard.
The Right Joints
Joints are a strong indicator of Amish made furniture. There are two types of joints to look for: dovetail and mortise and tenon. These types of joints require more time and effort and result in more durable furniture.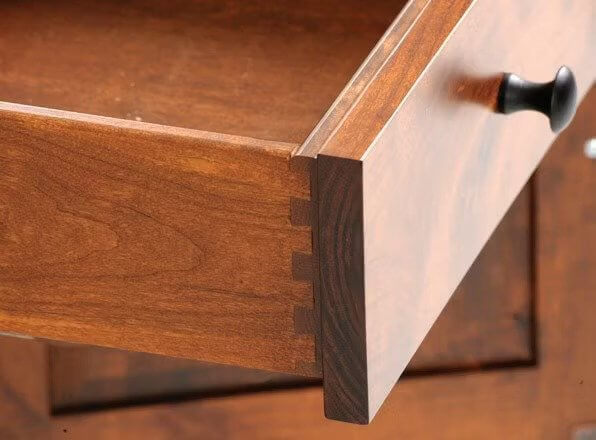 Dovetail joints are used to connect the front, back and side of a drawer. They are the strongest and most secure joints for drawers. They help support the weight of drawer contents and won't break or come apart easily. Woodworkers must cut the wood drawer boards to interlock with each other. Then, they add glue for additional reinforcement. Dovetail joinery can also be found in Amish beds for the bed slats. The slats fit into metal holders secured by this type of joint. The slats support the bed side rails and prevent bowing.
Mortise and tenon joints have been around for ages, and they also provide the strongest connection and support. They involve a wood piece called a tenon that is cut perfectly to fit into a mortise, or hole cut in the wood. The two are fit together to create an ultimately strong joint.
These are telling construction techniques, and authentic custom Amish furniture will have them. Joints that are only nailed or stapled are often found in furniture made with lesser materials and hurried mass production techniques.
Not Delivered the Next Day
Authentic Amish furniture is furniture you will have to wait for. There's no way around it. It's not mass produced or hurried in any way. Aside from some popular In Stock or Quick Ship selections, Amish custom furniture is handcrafted over a few months time. This is another reason you don't find it in big box stores, but specialty stores or online instead.
Details Stand Out
From form to function, Amish wood furniture embraces taking time to develop unique details. Whether it's the design on a pressback chair or the curve of a table edge, Amish woodworkers put lots of work into it all. The furniture is finished by hand with many pieces hand sanded. You'll find unique woods, beautiful carvings on some pieces and lots of function and work that stands out.
Drawers Open Smoothly
This may sound like a simple thing, but you'll feel the difference in the movement of a drawer made by the Amish. Drawers that are Amish made are often on full extension drawer slides that extend out entirely. This gives the user access to the most space in each drawer. Soft close drawer slides (a luxury upgrade) offer an even quieter closing with a mechanism that assists in closing the drawer with just a light tap. If you have trouble pulling open or pushing closed the drawers that can indicate it's not Amish made. Drawers in Amish furniture open and close so smoothly they are a joy to use.
Add these signs of authentic Amish furniture to your checklist. In addition, those selling you the furniture should have sound knowledge of the features and materials. We hope these tips help. Working closely with Amish woodworkers, we know they take great pride in what they build and it shows.