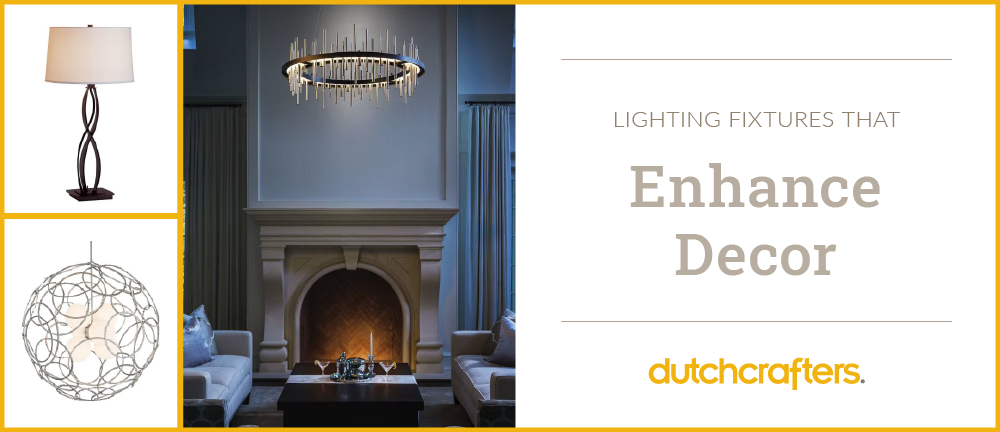 Lighting Fixtures that Enhance Decor
One popular design trend this year involves getting creative with lighting fixtures that enhance décor and make a statement. How does lighting contribute to a room? What new looks are out there that will add to the design and still contribute enough light for the room's activities?

Let's take a look.
How Home Lighting Contributes
The light in any room contributes to both the look and mood of the room. Three main types of lighting contribute in different ways. They are ambient lighting, accent lighting and task lighting.
Ambient Lighting
Ambient lighting is background lighting that flows throughout the room. It's not enough light for certain tasks like drawing or knitting where you need brighter light to work by. Light fixtures like pendant lights, ceiling fixtures and chandeliers can all provide ambient lighting.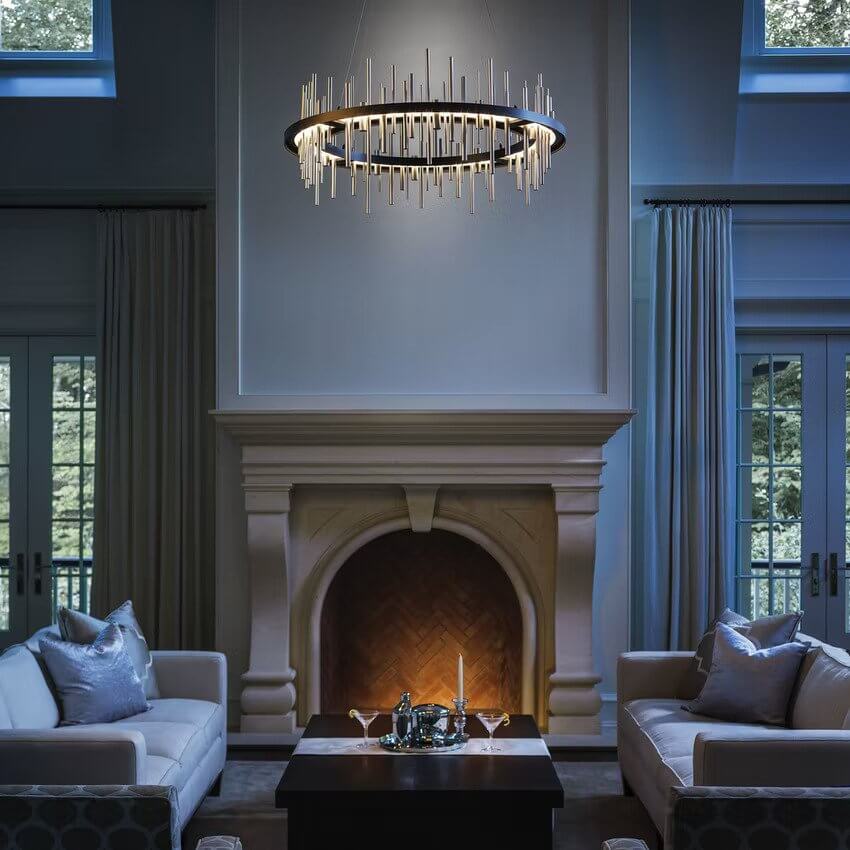 Accent Lighting
Accent lighting is where you can get creative. It can be used for decoration with options like floor lamps and table lamps to add a little highlight to the space.
Task Lighting
Task lighting provides the light you need for particular tasks, like reading in a recliner or doing a puzzle on the coffee table. It's brighter than ambient lighting for when you need more light to see. Desk lamps and table lamps are good examples of fixtures that provide task lighting.
Good Home Light Habits
Focal Points
Choose a central focal point for lighting fixtures you want to highlight. Larger rooms are best for this, like showcasing a chandelier in the dining room or entryway.
Scale
While it's fun to supply your home with lamps and lighting fixtures of different shapes and sizes, it's important to consider scale. Don't add a light fixture that overpowers a space or one that's too small to contribute a full effect.
Dimmers
Adjusting the light with dimmers is an easy way to create a new mood in the room. Dimmers cast a soft glow, and they can also help reduce your electricity bill. Be sure to get bulbs that are compatible with the dimmers you 'd like to use.
New Looks for Lighting
Lighting fixtures in 2022 are ready to take center stage. Some rival works of art, bringing in unique shapes and designs, made possible by the wide range of light bulbs to use with them.
Chandeliers
Chandeliers are lighting fixtures you can make a statement with. LED lights and different sized bulbs allow for sculpture-like chandeliers to be displayed as works of art. They offer a good amount of light and come with a large dose of wow factor.
Floor Lamps
Floor lamps contribute to ambient lighting, but also supply brighter light. Many have options to adjust the light to three different levels depending on what you need. They're easy to move which makes them nice when a room might need a refresh. They don't take up a lot of floor space and come in a variety of lamp shades and shapes to contribute to the room's design.
Table Lamps
Table lamps are available in a variety of shapes and colors and can contribute to the décor of a room. Lamp shades are an opportunity to add color or pattern. They sit on top of another piece of furniture like sofa tables, nightstands or accent tables. Sets of table lamps help to balance a room, and they can be moved easily.
Pendant Lights
Pendant lights usually hang from the ceiling by a cable or stem. The light they provide can shine down to highlight an area of a room, such as over a kitchen island or dining room table. They can be hung at different heights and are compatible with wider spaces. They're also another way to get decorative with lighting, and they cost less than a chandelier.
Tips for Updating Current Light Fixtures
Replace old lamp shades.
Adding a new lamp shade in a fresh color or pattern updates your light fixture and contributes something fresh to the room.
Replace light bulbs.
This simple update can set the mood for the room depending on the bulbs you use. There are plenty of energy efficient bulbs that can help save energy. Add to the look with colored LED bulbs for added fun.
Spray paint a lamp base.
This easy update can bring in a new accent color you wish to feature and make your lamp look like new.
Hubbardton Forge Light Fixtures
Several of the lighting fixtures you find in this post are made by Hubbardton Forge. Hubbardton Forge is a modern light manufacturer that offers a variety of unique modern light fixtures that stand out. The materials they use are locally sourced, and they are highly conscious of being kind to the environment. They take light designs to new heights, and offer lots of designs that fit the decor scene this year, where lights reflect works of art.
Light fixtures enhance decor and influence the look of a room and the functions within it. New standout styles bring even more to the table, allowing homeowners to get as creative as they'd like with new light designs.