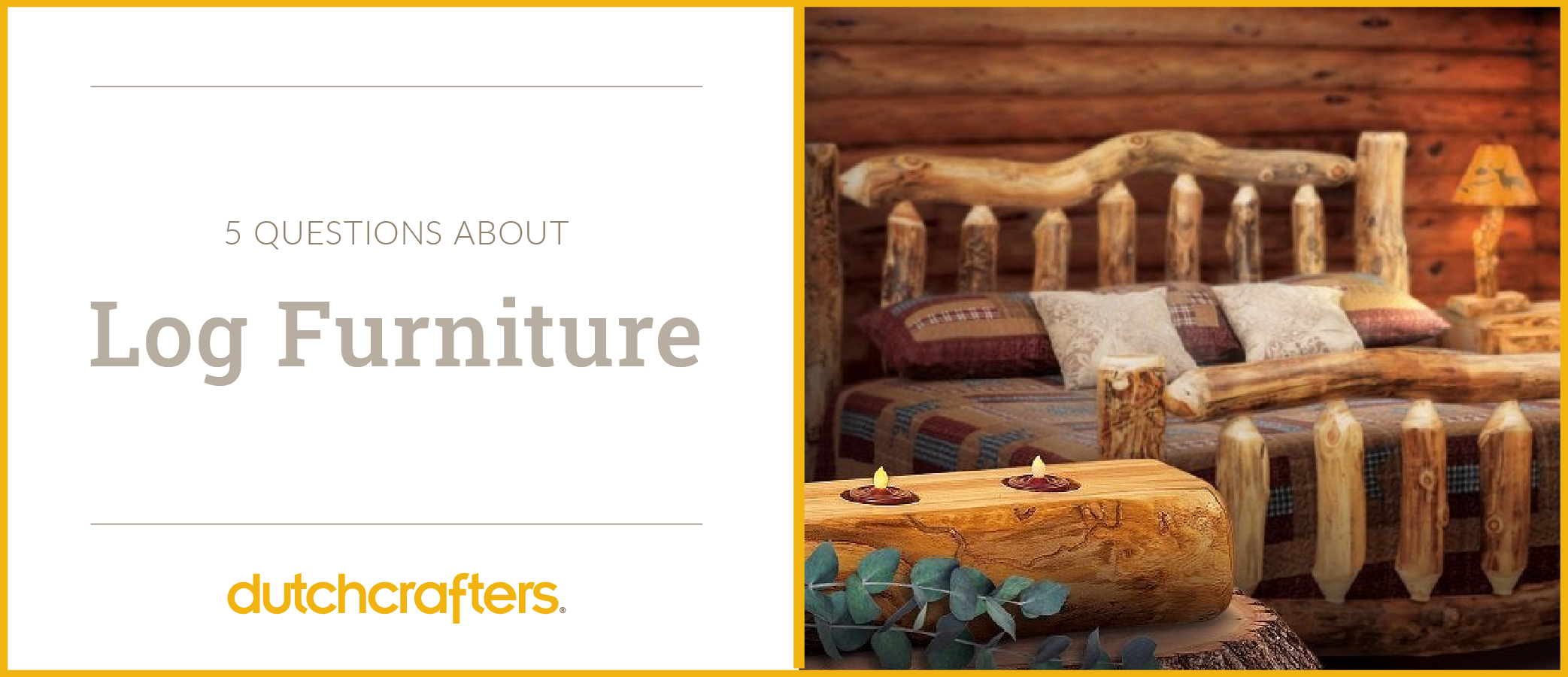 5 Questions About Log Furniture
Let's face it. Log furniture helps us disconnect. Its natural rugged look represents another time long ago, when things were simpler, and there's something so appealing in that. While log furniture has been around in the U.S. since the 1800s, its popularity grew in the early 2000s as many fell in love with rustic furniture for both indoors and outside. Log furniture is pretty rustic, with logs wearing knots, colorations, and markings that make it unique. You'll often find log wood furniture in mountain homes, log cabins and country cottages.
Like Mission and Shaker style furniture, log furniture is becoming a furniture style that won't ever lose its appeal. Here we take a look at questions about log furniture and what makes it a strong contender in the furniture world.
How is log furniture used?
Log furniture is a popular pick for rustic getaways. It's used in mountain homes, log cabins and country cottages. It's natural and outdoor-woodsy look fits perfectly in vacation homes. Think of spacious cabins with shiny wood floors and cozy, calm inviting log furniture. Log bunk beds and nightstands contribute to "getting away from it all" for in a rustic setting, where the pace is more relaxed. Log beds are warm and inviting, contributing to mornings made for sleeping in. Log sofas and recliners make perfect gathering places for family and friends to relax.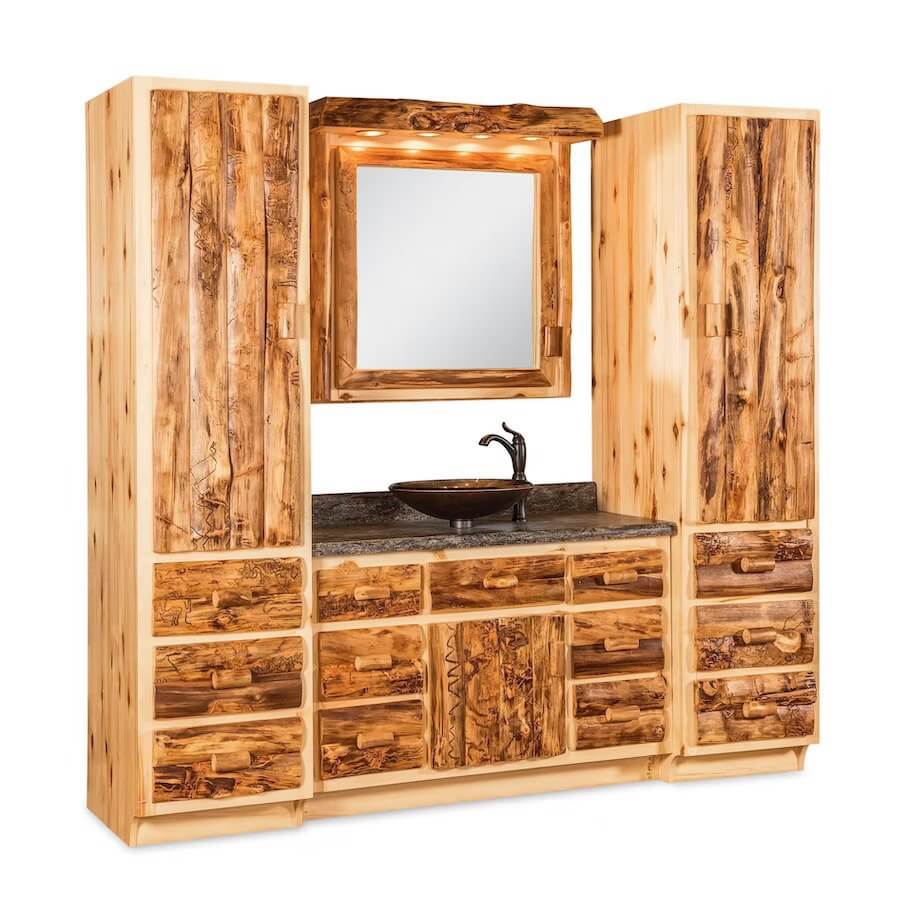 What woods are used for log furniture?
Log furniture is made using whole logs. Popular woods used for building log furniture include aspen, pine, aromatic red cedar and hickory. The wood is heat treated and dried, and the bark is removed before building begins.
Aspen Log Furniture
Aspen wood mixes together hues of white and light brown, creating pretty colors. There will be discolorations and streaks present that add to its rustic look. Some aspen logs will even show marks made by elk or deer. Aspen is a light but durable wood. Woodworkers like aspen wood because its lightness makes it easy to move around and it resists splitting. They bring out knots and unique patterns in aspen wood by sanding and sculpting it.
Pine Log Furniture
Pine is stiff and light, but durable and strong. It features light yellow and white coloring. You'll find ample knotholes in pine, and it showcases stain nicely. Pine will resist wear and woodworkers like making log furniture with it since it works well with tools and holds its shape well without splitting or warping.
Cedar Log Furniture
Cedar wood will have more knots and color streaks throughout the logs. It showcases attractive red hues and offers a bonus benefit. Cedar's natural oils put off a fresh cedar scent that humans may love, but pests and bugs detest. It acts as a natural repellent. Cedar wood is long-lasting and naturally resists fluctuation in temperatures, making it a good candidate inside or outside. Inside, it's cedar scent contributes to the earthy and natural mood of the room. Woodworkers like it because it's lightweight and dense, which makes it easier to cut and shape.
Hickory Log Furniture
Hickory is a popular choice for log furniture due to its durability and flexibility. Hickory is often steam bent to make it more pliable. Then, craftsmen work it into unique shapes, dry it and add it to log furniture. Hickory is hard and heavy. It features a combination of light and dark colors. Hickory wood includes imperfections like burls, streaks and knots that rustic log furniture loves. When the bark is left on, even greater rustic vibes are achieved. Hickory can handle heavy use, making it a fine candidate for log furniture. It can be a challenge to work with, and expertise is needed to build with it.
What is rustic log furniture?
Log furniture is rustic to begin with, showing no signs of rigid lines or ornamentation. Instead, log furniture showcases the natural, including some imperfections in the wood like knots, discolorations markings, and unique curves and shapes. Sometimes woodworkers encounter knots that are inverted. This can cause the piece to become bumpy or uneven. Then woodworkers must make adjustments for these naturally occurring imperfections in order to ensure secure attachments and closing of drawers for case pieces. Rustic log furniture turns it up a notch, with more imperfections that are celebrated as they help create a unique one-of-a-kind look.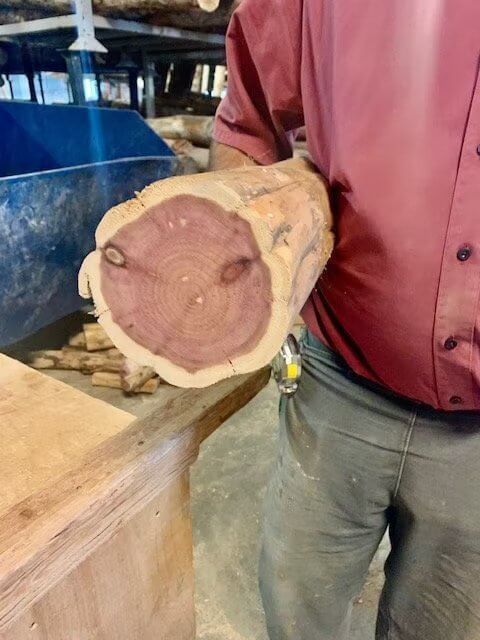 Is log furniture expensive?
While the woods used for log furniture cost less compared to other woods used for furniture, the added work and time involved in crafting log furniture adds to the price.
How can you customize log furniture?
Log furniture from Amish country offers room to customize, and it starts with the wood. Many pieces of log furniture are offered in choice of aspen, pine or cedar. Customizations vary depending on the piece of furniture. There are log furniture pieces available in a variety of sizes to ensure a good fit. Log nightstands offer options for number of drawers as well as the option to add a hidden compartment on some models. Some log beds let you get creative with the footboard, offering panel or spindle styles for headboard or footboard. Rustic log bookcases can be built with or without doors. There are plenty of possibilities when it comes to customizing Amish made log furniture.
Bonus Question
Should log furniture be finished?
Log furniture is often sanded and a varnish is applied, but leaving log furniture unfinished is a popular option as well. It's loved for its rustic nature in the first place, and leaving it unfinished enhances it even more and allows more of its natural beauty to shine. The wood is sanded so it's smooth to the touch. If wood is exposed without a stain. Users must take care to avoid getting the wood stained with anything since there's no protective layer of sealant. The scent of unfinished cedar wood is loved by many, and the scent would not be as strong with a sealant on. That's not to say that you should not use a clear sealant on log furniture. Many people do, and it provides an added layer of protection. To finish or not to finish log furniture is really a matter of personal preference.
Things to Remember About Log Furniture
A clear top coat of sealant will help protect the wood and maintain it longer, particularly outdoors, but it's perfectly ok to leave log furniture unfinished if preferred.
Log furniture is ideal to create a rustic, natural look
Expect imperfections. Like reclaimed furniture, log furniture embraces them.
Log furniture in all its natural goodness, offers a laid back look. Get ready to relax.
What questions do you have about log furniture?