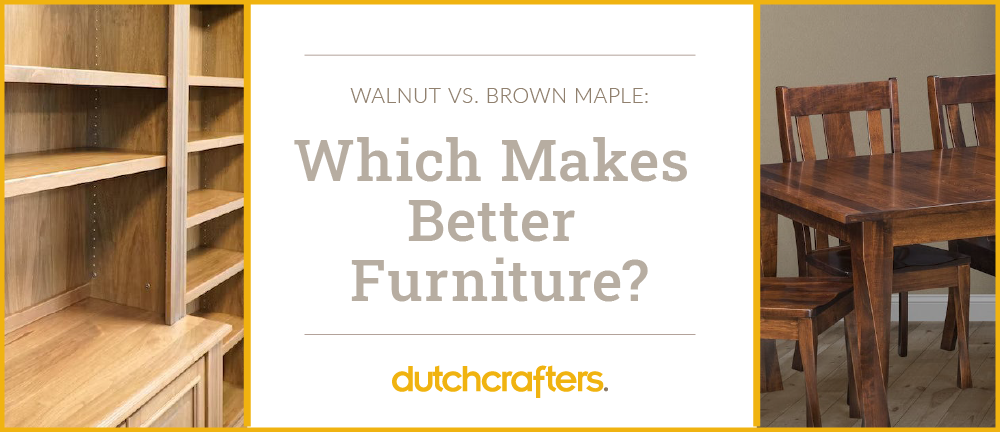 Walnut vs. Brown Maple: Which Makes Better Furniture?
Walnut and brown maple are two woods that look good in dark stains. They're easy to work with and both offer reliable durability. One is more expensive than the other and their grain patterns differ. We're taking a look at walnut wood versus brown maple wood to see which makes better furniture.
Walnut Wood Colors
Let's start with wood colors. Walnut wood is known for its exotic dark tones. The wood from the walnut tree that is used to make furniture comes from the heartwood and sapwood of the tree. The heartwood is located closer to the center of the log, while the sapwood is found in its outer rings. Heartwood and sapwood will feature different shades. The sapwood of the walnut tree is a light yellow color, almost white, while the heartwood colors range from light to dark brown, with dark brown shades featuring purple or red tones.
Brown Maple Wood Colors
Brown maple wood colors include a variety of brown shades, tans, creams and whites, and there might be light or dark streaks running through it. Brown maple wood used for furniture is taken from the heartwood of maple trees (hard maple comes from the sapwood).
Walnut Wood Grain
Walnut wood grain is generally fine and straight, and the wood displays a medium texture. While walnut grain is refined and elegant, it can display some irregularities. These include knots or extra sap. Sometimes there are waves, burls or curls that are the result of knots present in the wood. These irregularities actually contribute to unique patterns that add to walnut's exceptional look.
Brown Maple Wood Grain
Brown maple offers a sleek, smooth grain with a uniform texture. The smooth grain makes brown maple ideal for a stained or painted finish, or a distressed one. Brown maple doesn't follow a rule book, and some contains figuring, or variations in the grain pattern. Grain variations include things like, flame, tiger, curly, wavy or birds eye that are all sought after for their unique look. Incredibly, these variations result from trauma that tree endured as it grew.
Walnut Wood Strength
Walnut is a hard, stable wood. This elite wood promises strength and durability. It absorbs shock well and resists decay. On the Janka Hardness Scale, walnut rates at 1010, putting it ahead of cherry and brown maple for hardness, yet still behind oak wood, that comes in at 1290.
The Janka Rating is used to test the relative hardness of wood, measuring the amount of force it takes to embed a 0.444" steel ball into the wood to half of the ball's diameter.
Brown Maple Wood Strength
While brown maple wood is referred to as soft maple, this does not mean it is a poor performer. It is termed soft maple in comparison to the hardness of hard maple wood. But brown maple offers plenty of its own strength and durability. Brown maple has a Janka hardness rating of 950, very close to that of cherry wood.
While brown maple is plenty durable and strong, you'll want to be more careful with it, as surfaces can get nicked or marked more easily than a harder wood like oak.
Building with Walnut
Walnut wood is easy to work with. It wears stain beautifully and holds its form. It's easy to cut and sculpt with hand tools and machines. It's a wood that can display intricate carvings as it is easy to carve and turn. Walnut wood is a bit of a chameleon, wearing dark stains beautifully, then turning around and looking stunning in just a natural linseed-oil finish that's barely there.
Woodworkers like walnut wood because it is easy to carve and turn. That's why you'll find some intricate carvings on walnut desks or turned legs on walnut chairs or tables. Walnut takes stain well, glues well, and works well for steam bending. Walnut polishes nicely, and it nails and screws well. However, its rich dark color is not the ideal canvas for paint. Dark stains or a clear coat finish or oiled finish are best to enhance its beautiful hues.
Building with Brown Maple
We've mentioned how brown maples uniform texture and smooth wood grain make it great to stain, paint or distress. When it comes to stain color, it's recommended a darker stain be chosen for brown maple. Why? There may be some grayish/greenish mineral streaking in the wood. Select a light stain for brown maple and this could show through the stain. This does not mean you can't select a lighter stain color for brown maple, it just might not look as flattering as a medium or darker one. Select a dark stain, and the streaks take on a unique pattern and look, adding to the effect and making some areas darker than others.
Price Comparison for Walnut and Brown Maple
Walnut has the higher price between these two candidates. Why? Walnut trees are not as plentiful as some other trees. They don't get as tall either, resulting in less wood per tree. Walnut wood has more knots to work around, and does not come in long boards like other woods. These factors and its exceptional look make it a premium wood, therefore driving up the price.
Many love brown maple wood for its colors and durability, and they also love the price. While brown maple is often compared to cherry in terms of how it looks, it has a lower price tag. Brown maple wood is one of the least expensive hardwood options. It costs less due to the fact that it is a more common wood that grows quickly.
Benefits of Brown Maple Wood
Offers strength and durability
Showcases a variety of brown shades
Ideal for a painted finish
Looks great with distressing for a weathered look
One of the least expensive hardwood options
Mineral streaking enhances patterns
A versatile wood
Unique grain pattern
Accepts stains easily
Glues well
Benefits of Walnut Wood
Strong and durable
Stable and hard
Showcases dark brown shades
Good shock resistance
Great option for turning or carving
Glues and nails nicely
Easy to steam bend
Resists decay
Accepts stain well
Offers unique colors
Unique grain patterns add to its popularity
Drawbacks of Brown Maple Wood
Scratches and dents more easily than other hardwoods
Mineral streaking shows through lighter stains
Drawbacks of Walnut Wood
Comparing Walnut and Brown Maple Wood for Furniture
Both beautiful woods, walnut and brown maple make stunning wood furniture. Walnut has some darker colors, but still looks beautiful au natural with an oiled finish. Brown maple colors and the nature of its grain pattern look best in darker stains. Brown maple's smooth grain is a favorite for stain or paint, and walnut would not be a strong candidate for a painted finish, so the variety of finish options for both woods practically come out to a tie here. While both are strong and durable, walnut emerges as the harder wood, gaining ground as brown maple needs some extra care so it does not get nicked or dented. Brown maple recovers easily from this possible shortcoming by offering a lower price than walnut, quite a bit lower in fact.
So there you have it. Brown maple and walnut described and compared. So is it walnut or brown maple that makes better furniture? They actually both make fine, sound wood furniture that performs well. It's really just up to you which one you like better.