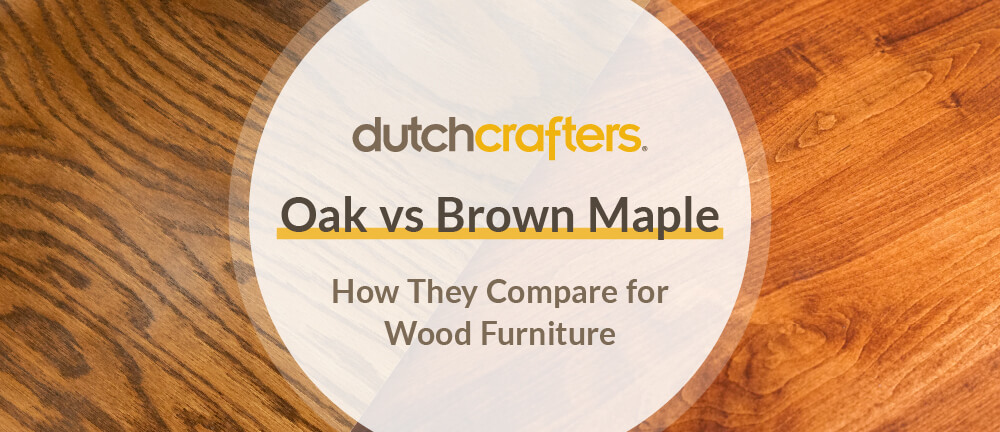 Oak vs. Brown Maple: How They Compare for Wood Furniture
It's time for oak versus brown maple, where we'll take on the two least expensive hardwood types that offer a world of possibilities for wood furniture, and we'll compare their strengths and weaknesses. The ultimate goal is to help you decide if one of these wood types would be the best fit for your vision of new wood furniture.
Comparing Colors
Oak Wood Colors
There are several different species of oak trees. The two main ones used to make oak furniture are red and white oak trees. Oak wood is primarily light in color. Red oak actually contains lighter shades than white oak, with colors ranging from white to soft brown, and heartwood and sapwood both displaying a pinkish hue. White oak's colors feature shades of light to medium brown, as well as dark to medium brown with some yellow shades mixed in.
Brown Maple Colors
Brown maple showcases a variety of brown shades, including browns, tans, whites and creams that can include light and dark streaks, as well as a touch of red.
Comparing Characteristics
What does oak wood look like?
Oak is a busy wood where grain pattern is concerned. Oak wood displays a prominent grain pattern with long, curving arches and loops, compressed into thin, parallel lines in some sections. Its pronounced patterns make oak easier to identify among hardwood furniture.
Oak Wood Performance
Oak is durable and offers a top performance for wood furniture full of function. The most widely used hardwood in American furniture making, oak is a good choice for pieces that see heavy traffic and high use. There's lots of strength in oak, earning it a Janka Hardness rating of 1360 for white oak and 1290 for red oak. Oak furniture can be enjoyed in a variety of colors, as oak wood takes a stain well from light to dark. Paints are a different story because oak's coarse texture mean that oak is not the best for a painted finish. Woodworkers like the fact that oak glues and finishes well, making it easy to work with by hand or with machine tools.
Unique Characteristics of Oak Furniture
Strong and durable
Prominent wood grain
Coarse texture
Radiates warmth
Beautiful colors
Takes stain and finish well
Added resistance to wear, rot, decay and moisture
What does brown maple wood look like?
Unlike oak, brown maple has a sleek, smooth grain with uniform texture. This doesn't make it boring by any means. Brown maple wood includes some irregularities in the grain pattern that can include gray-green mineral streaking. Because of this streaking, it is recommended that brown maple furniture be stained in darker stains so the streaks do not show through. Irregularities in the grain pattern cause brown maple to capture a stain unpredictably, meaning some areas of the wood will look considerably darker than others.
A unique variation that can occur on maple wood is called bird's eye, a distinct pattern that looks like small swirls with eyes. Other unique patterns that might be found in brown maple include flame, curly or wavy, each of which makes brown maple furniture even more stunning.
Brown Maple Performance
Brown maple is a leader when it comes to paint and distressing. Why? That smooth, uniform grain makes it take to paint very well, and not every wood type can. The same can be said for distressing, when you want a weathered, antiqued look for wood. The smoother surface makes it a great match for painting and distressing techniques.
Brown maple is a hardwood, although it is considered a "soft" hardwood. By "soft" we mean it is soft in comparison to other hardwoods. Brown maple is often compared to cherry wood and is just as durable and strong as cherry. It's recommended to be more careful with a table surface made of cherry or brown maple versus a table made of oak. Brown maple has a Janka hardness rating of 950.
Brown maple is another wood that's great to have in the woodshop. It's easy to cut and shape and can be crafted into many different furniture styles.
Unique Characteristics of Brown Maple Furniture
Durable and strong
Showcases darker finishes beautifully
Perfect wood to paint
One of the least expensive hardwood options
Comparable to cherry in hardness and appearance
Versatile
Showcases unique grain pattern
Easy to stain, finish and glue
Comparing the Cost
Oak and brown maple share a lower price tag when compared to other hardwoods like cherry or walnut. They are two of the least expensive hardwoods.
Fans of brown maple love that it shares some characteristics with cherry wood, without the higher price tag. The cost is lower since it's a more common wood and it grows quickly.
Oak vs. Brown Maple
With oak you get some added hardness and strength when compared to brown maple. Oak has an active prominent grain. If a smoother look is more your style, brown maple catches points there with its smooth, uniform wood grain. Brown maple looks great painted, while oak's textured grain will show through paint. Both woods can be crafted into a number of furniture styles, as they are both easy to work, shape and sculpt in the woodshop. When it comes to stain colors, it's important to remember brown maple can have mineral streaking and looks best in darker stains. Oak shines nicely in lighter stains as well as dark ones.
Oak Wood Pros
Strong and durable
A light colored wood
Prominent grain pattern
Timeless look
Easy to work with
Affordable
Oak Wood Cons
Prominent wood grain
Not a good wood for painted finish
Heavy to lift when needing to move furniture
Brown Maple Pros
Beautiful colors
Smooth, uniform grain pattern
Mineral streaking creates unique patterns
Easy to work with
Adaptable to many different styles
Great wood for painted finish
Great for distressed finish
Affordable
Brown Maple Cons
A softer hardwood that can get scratched and dented more easily than other hardwoods
Mineral streaking can show through light stain colors
So there's oak versus brown maple and how they compare for wood furniture. Which one is best for your home?