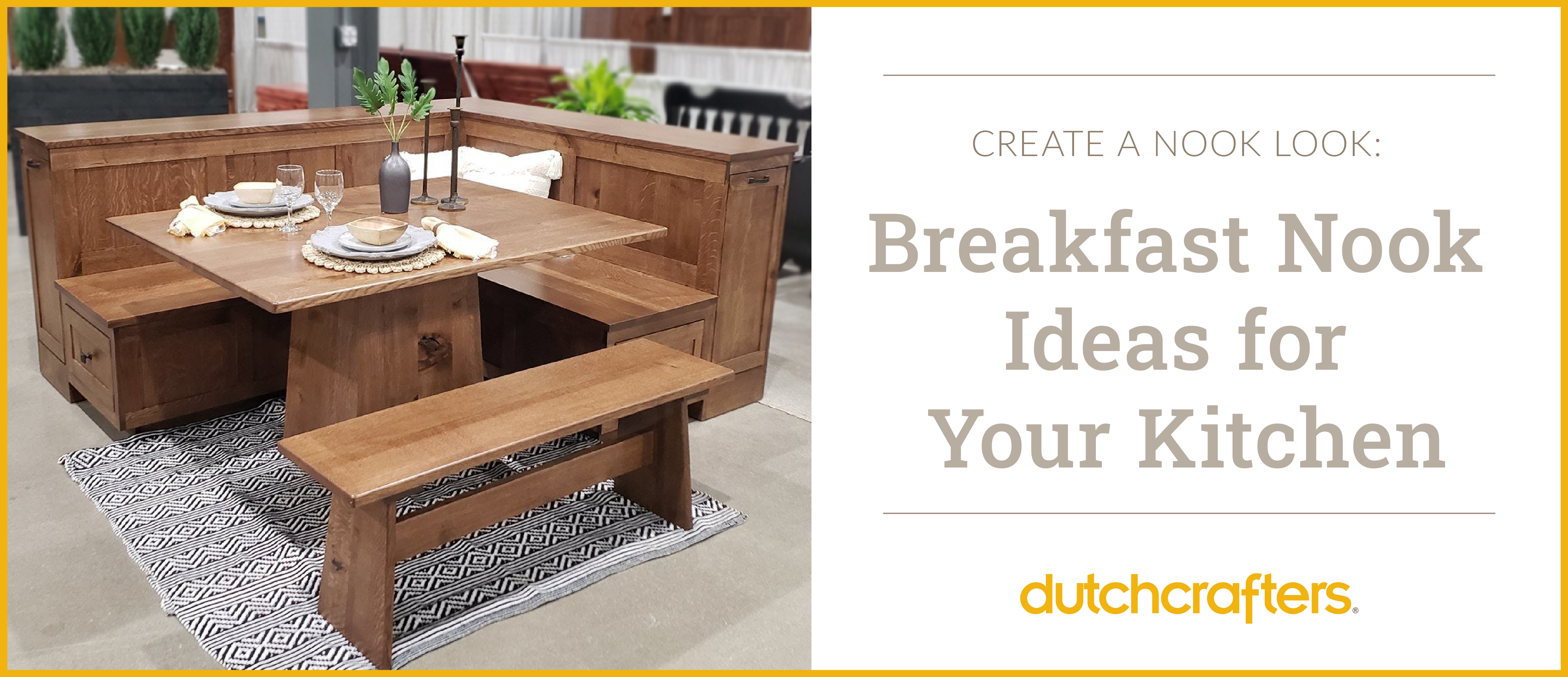 Create a Nook Look: Breakfast Nook Ideas for Your Kitchen
We all love the look: the nook look. Irresistibly charming and cozy, the breakfast nook isn't just for breakfast anymore. Breakfast nook ideas cover everything from eating meals to working on projects and puzzles, to playing games with family or enjoying coffee on a lazy Saturday morning.
Upon hearing the words "breakfast nook," visions of fluffy pancakes, cozy pajamas and a cup of coffee with family gathered around may come to mind. What constitutes a breakfast nook? Originally, these charming gathering areas were located just off the kitchen, often with windows on three walls to bring in plenty of natural light. They contained a small table with benches and chairs providing seating for two to six people, and their small size earned them the title of "nook."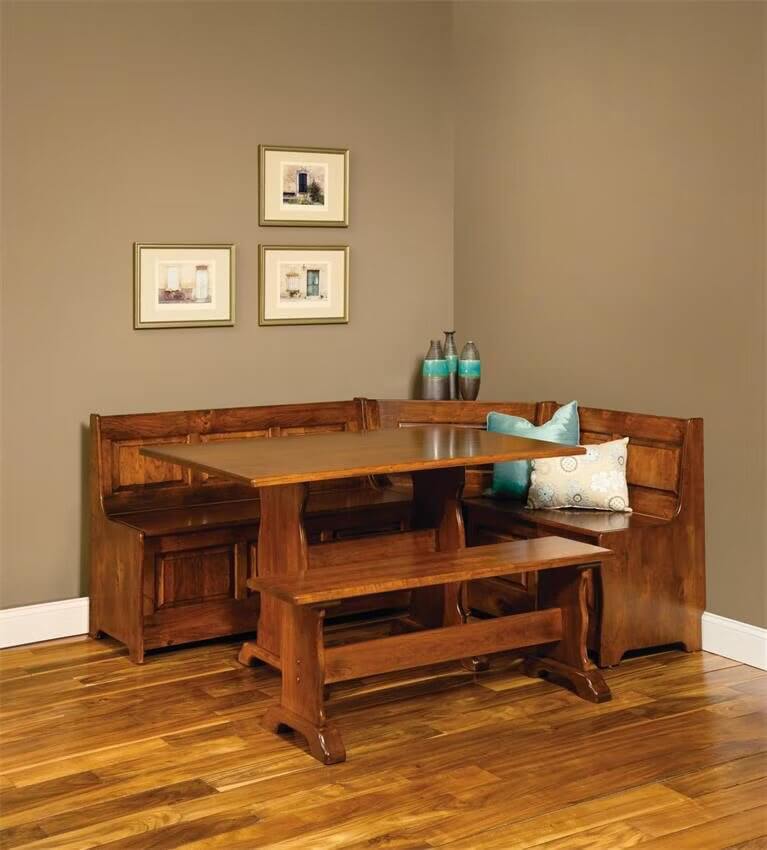 These days, no real rules exist for the proper design of a breakfast nook. It usually shares a wall with the kitchen and can be considered a mini dining room, yet it is not a separate room in itself. The main nook requirement is to create a space that invites company and conversation while providing a cozy seat in the house.
Choosing Your Breakfast Nook Nest
A breakfast nook should always be inviting, relaxing and full of function. Ideal areas for your breakfast nook nest include:
A corner space
A spot to one side of the kitchen
A location near a window to let in natural light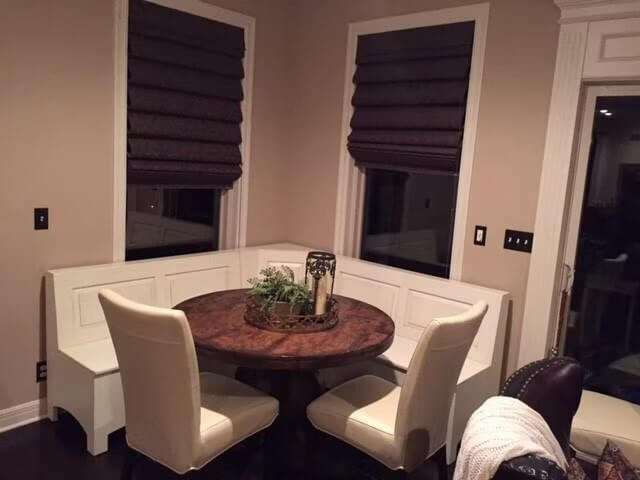 Breakfast Nook Designs: The Three Main Types
The beloved breakfast nook takes on many different shapes and configurations these days. It can be tucked into a corner, take position next to a wall, or feature a scenic view set up by a window. Some double as a storage space with benches that open to provide room. The three main types of nooks are:
Nooks with Built-In Seating: The classic look of these nooks has at least one bench attached to the wall and usually creates an inviting rectangular-shaped nook.
Freestyle Nooks: No permanent seating is involved in this design. Furniture is often set up near a window to allow natural light in. It offers a versatile design that welcomes oval and round tables.
The Booth Nook: These nooks resemble the built-in seating version, but are more defined, with a three-sided seating arrangement that includes perks like shelves, bookcases or storage.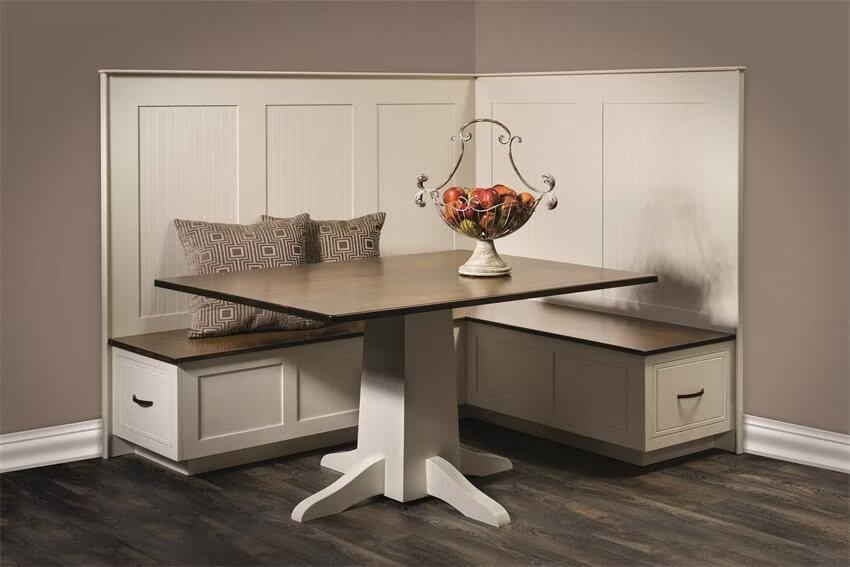 Furnishing Your Breakfast Nook
Be sure to select a space that provides enough room for your table and chairs and for people to sit comfortably.
A booth set works well in a kitchen corner. The booth set often includes bench seating that offers spacious storage within the seat.
Round tables are good choices for nooks that are set up against walls or for smaller kitchen spaces.
A larger kitchen space can really show off square or rectangular tables.
Consider a table with a pedestal base as this will provide more seating options as well as more space for chairs or benches.
Nook seating allows you to get creative. Mix it up with different chair and bench styles at your nook table.
Select the right size furniture for your space so you don't crowd your nook area.
Breakfast Nook Accessories
Play with color by using accent pillows that are easy to change out for a new look.
Use thick, cozy cushions for an inviting look and feel.
Add a rug to your nook area.
Add some fresh flowers.
Breakfast Nook Design Ideas
Display family artwork on the wall around your nook area for your own custom designed gallery.
Match the design of your nook with your kitchen décor to keep your favorite style throughout.
Add your favorite colors and décor items.
Make the most of your nook space with furniture that provides storage.
Keep it simple to allow a window view to stand out.
A Fun Family Space
Family and friends are sure to flock to your breakfast nook area as its design and location can serve multiple purposes. Be sure to include the following on your list of nook activities.
Relax with coffee
Create a homework haven
Enjoy crafts and hobbies
Play delightful board games
Set up for yummy snacks
Get in some time on your laptop
Enjoy tea time
Pass some wine and cheese around
Bring on brunch
Have a nail painting party
The possibilities are endless for this intimate space that invites everyone in. Style your breakfast nook area today for family comfort and fun you can always count on.