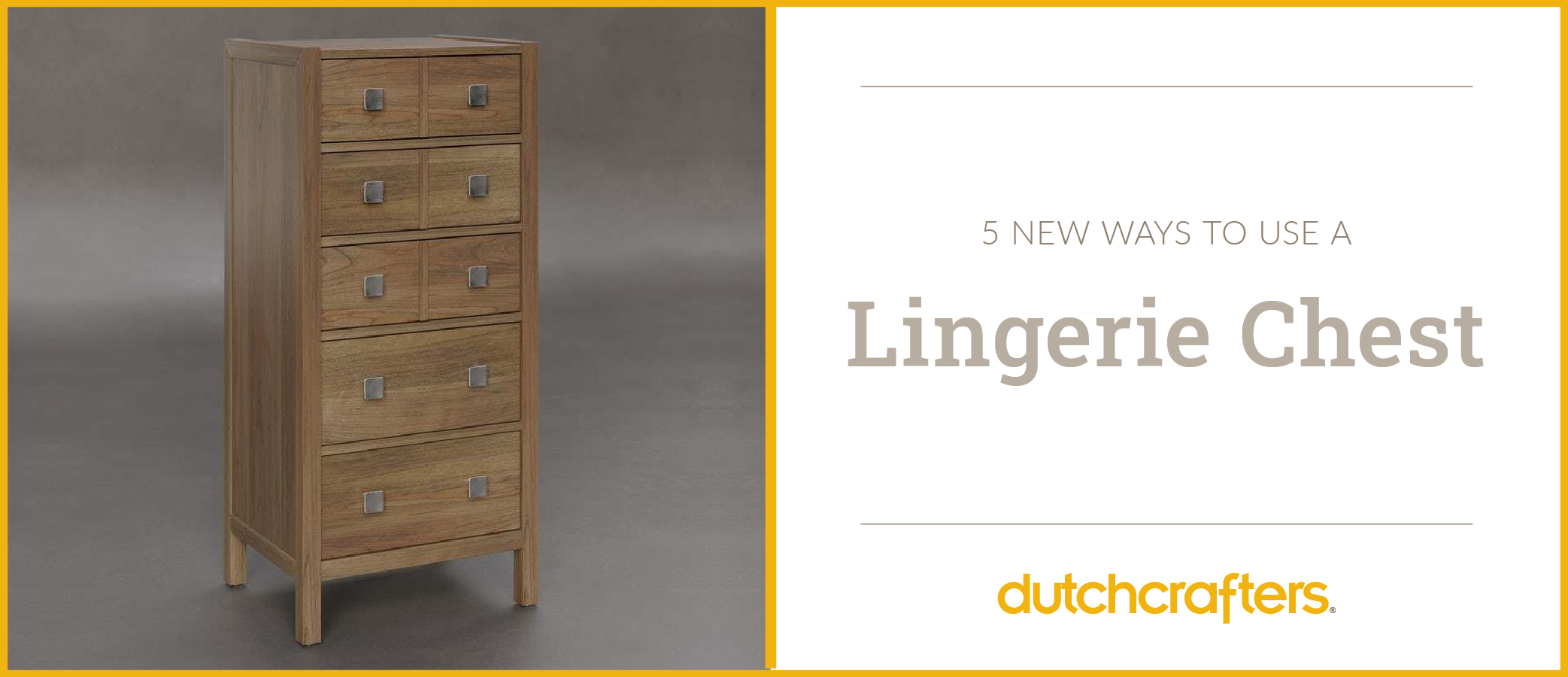 5 New Ways to Use a Lingerie Chest
We'll call it. A lingerie chest is a little bit of luxury. A narrow chest of drawers made specifically to store and organize women's undergarments, the lingerie chest originally fell into the category of fancy furniture. Delicate undergarments were organized, stored and protected in its drawers, preventing damage, snags and pulling that could occur in large dresser drawers where there's a bit of everything mixed in. These days, these small chests of drawers are still used for underwear, but they're so versatile they are being used in other ways.
What's a lingerie chest like?
A lingerie chest can provide just the solution when you need to add storage in a small space. You're not breaking any rules if you don't keep lingerie in the drawers, but instead store other items. Lingerie chests are tall and narrow, and they make use of vertical space. They're ideal for adding storage without taking up much floor space. They range in height with most measuring around four feet tall, and can offer between five to eight stacked drawers. Some have legs and some do not. They come in a variety of styles, including contemporary, rustic, mission and formal.
Here are five new ways to use a lingerie chest.
As a craft cabinet.
If you love to sew, quilt, or do other crafts, here's a small chest of drawers providing the perfect spaces for fabric, yarn, spools of thread, glue guns, and everything from pom pom balls to stock card paper. The multiple drawers make it easy to keep all your craft supplies organized and easy to find.
For organizing files.
All those extra papers have a way of piling up all over the house. Instead of cluttering the kitchen counter or coffee table, a lingerie chest of drawers in the office is a great solution! Sort records, receipts and files and store in the drawers. Office supplies like the stapler, pens, rulers, scissors and post-its have space too. You can add drawer dividers to the drawers to separate smaller items.
As a bathroom cabinet.
Bathrooms come in all shapes and sizes, and this narrow dresser can be put to good use in the bathroom. Store candles, washcloths and hand towels in some of the drawers. There's room for makeup, medication, hair products and accessories. Whether your bathroom is large or small, a lingerie chest won't take up much space.
To store your media collection.
It turns out lingerie chests are ideal for storing media collections. DVDs, CDs, and video games fit nicely in the drawers, preventing unsightly stacks in your living room. You can use a drawer or two to store video game controllers as well.
As a foyer free-for-all.
Position this narrow dresser in the foyer or entryway and you've solved a number of issues. There will be a place to set your keys and wallet. Ingoing and outgoing mail could be housed right in the top drawer. Gloves, scarves, and caps can be kept in the bottom drawer for cold weather months. The possibilities are endless.
Bonus Idea
Use as a sock cabinet.
Perhaps there would be fewer single socks in the world if we started using lingerie chests just for socks. Think of it, one drawer for dress socks, one for just black socks, one for cute holiday socks, one for slipper socks. Socks kind of need a chest of their own to survive.
How can you customize an Amish lingerie chest?
To customize an Amish lingerie chest, you can start with selecting the wood type. Amish lingerie chests are offered in a variety of woods, from cherry to oak to brown maple and more. Then you can select a stain color that enhances the grain pattern and features of the wood. It's fun to work with samples to find just the wood and stain combination you like best. There's a variety of hardware to choose from too. Drawers can be upgraded to a soft close feature. Soft close drawers respond to just a gentle tap, then they pull slowly to close, without ever slamming. Some models offer the feature to add cedar bottoms for a fresh cedar scent that helps to naturally repel pests. Another custom option is adding dust panels, little barriers between drawers that help prevent dust from settling on the contents of the chest. Customizing allows you to bring home the version of lingerie chest that best fits your décor and needs.
There are endless possibilities for using lingerie chests. So beautiful and versatile, they can be used in just about any room in the house for storage. Do you have a lingerie chest? What room do you use it in?