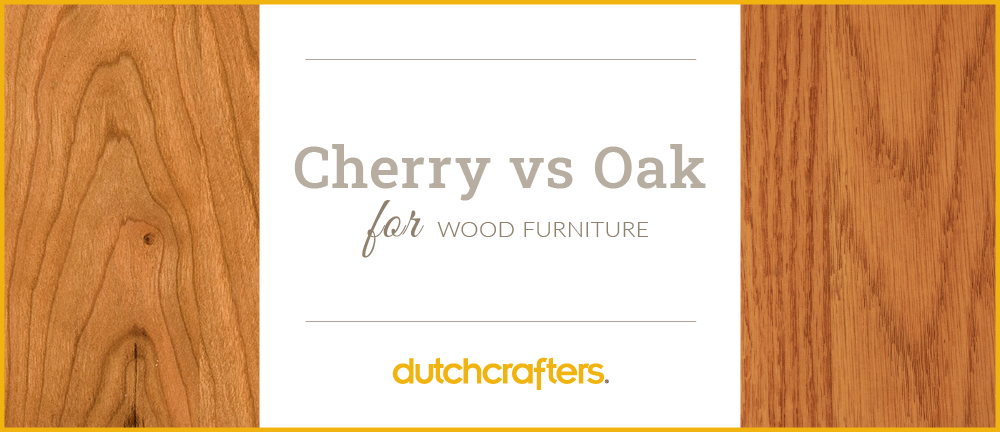 Cherry vs. Oak for Wood Furniture
Curious about cherry and oak and how they compare?
We're back with another wood type comparison with cherry versus oak for wood furniture. The differences between cherry wood and oak wood are the opposite of subtle, and here we compare and contrast them to help you decide which you prefer for wood furniture.
Cherry Wood vs. Oak Wood
Both cherry and oak are big name stars in the wood type arena. Each have their own characteristics that make them unique, and each have their advantages and disadvantages.
Cherry wood is luxurious and strong, with a need to be handled with care. Cherry could be considered an elegant lady among solid hardwoods.
Oak wood is strong with a prominent wood grain that grabs attention. It's relied on for heavy use that can handle the workload. Oak could be considered the worker or the artist among wood types with the strength and wild grain pattern it combines.
Cherry Wood Characteristics
Elegant cherry wood furniture is timeless and classic. It touches a room with its range of reddish brown tones, its smooth wood grain and its natural glow. Cherry wood furniture emanates beauty from every angle.
Amish woodworkers crafting fine wood furniture like working with cherry wood for the following reasons:
Solid and durable
Easy to cut and shape into fancy carvings and turnings
Nails easily and takes glue well
Sands to a smooth finish
Dries pretty fast
Steams nicely with good bending properties
Cherry Wood Color
Cherry wood brings rich colors to furniture that range from light blonde to reddish brown. The heartwood (wood closest to the center of the cherry tree log) and sapwood (the outer portion of the log) contribute rich cherry colors. The heartwood is a light pinkish brown that becomes a rich red brown color over time. The sapwood offers a creamy yellow color. Cherry wood colors vary from tree to tree. The color of the wood will darken to a rich patina over time with exposure to light. This darkening happens even after the stain is applied. The degree of darkening varies from tree to tree. This intriguing natural characteristic of cherry wood is loved by some and disliked by others. As a general rule, it is always recommended to consider the placement of new solid cherry wood furniture, and to try to keep it out of direct sunlight due to its natural darkening. Even if you love the darkening process, you'll want to monitor the sun exposure to be sure cherry furniture darkens evenly.
For those who associate red colors with cherry wood, rich red hues have more to do with the choice of stain the wood is finished with than the natural cherry wood colors. Cherry wood has its own subtle red brown shade that works well with reddish stains.
Cherry Wood Grain
The opposite of oak grain, cherry wood grain is a fine, closed, straight, simple, uniform wood grain with a smooth texture that's often compared to maple wood. Mineral deposits (small black spots that occur randomly), gum pockets, occasional knots and pith flecks (worm tracks that create a brown streak) can occur in cherry wood, adding to its texture.
Cherry Wood Strength
Cherry wood strength is substantial. While it's classified as a "softer" hardwood, cherry wood is still a hardwood and it's no wimp. Cherry remains strong and durable over time. The Janka Hardness scale used to rate the hardness of wood rates the hardness of cherry at 950, which is a bit lower than walnut and maple, but higher than pine wood.
*The Janka Hardness Test measures the force needed to embed a .444 inch steel ball half of its diameter into a piece of wood.
The "softer" nature of cherry means a closer eye must be kept on it. Cherry wood furniture can sustain nicks or dents more easily than other solid hardwoods used for furniture. Cherry wood furniture pieces must be careful in high traffic areas or if they are used every day.
Cherry Wood Cost
Cherry wood is in high demand and is not as readily available as oak wood, therefore it's a more expensive wood type.
Oak Wood Characteristics
Oak wood is the most widely used solid hardwood in American furniture making. It's got grit and gumption and succeeds at earning its position as a hard working, strong, reliable wood. Oak does not apologize for its grain pattern that's pronounced, powerful and perhaps a bit zany as far as grain patterns go. Many love it, some find it too busy, and others are indifferent to it, won over more by oak's durability and longevity.
Amish furniture makers note the following about working with oak wood:
Takes stain well, will take a lot of it
Prominent grain and coarse texture make it hard to paint
Glues and finishes well
Will absorb shock well
Resistant to moisture and corrosion
Oak Wood Color
While there are several species of oak trees, red oak and white oak are the two main oak woods used to make furniture. Oak wood is primarily light in color. White oak's heartwood offers light to medium brown hues, including tan shades with some yellow mixed in. Red oak ranges from white to soft brown in both heartwood and sapwood, with a pinkish hue to them. Red oak wood actually contains lighter shades than white oak wood.
Oak Wood Grain
Oak wood is one of the easiest to identify with its prominent wood grain. There's a lot going on with oak's wood grain, that could be considered the Picasso of wood grains. The grain is rough and deep, with long curving arches and loops compressed into thin parallel lines in some sections. Oak will have some knots, adding to its texture and character. Oak accepts stain well and can be finished in a variety of light and dark stains. However, it's bold grain catches a lot of stain and this, combined with its rough texture, is not a good mix for a painted finish.
Oak Wood Strength
An endgrain section of red oak heartwood will reveal open, porous growth rings, whereas the endgrain of white oak wood will show growth rings that have pores filled with tyloses. The tyloses help contribute to white oak wood resisting rot and decay. Oak wood is sturdy and strong, making it an ideal choice for furniture that gets daily use. White oak earns a Janka hardness rating of 1360 and red oak earns a rating of 1290. Oak is harder than many other woods used to make furniture.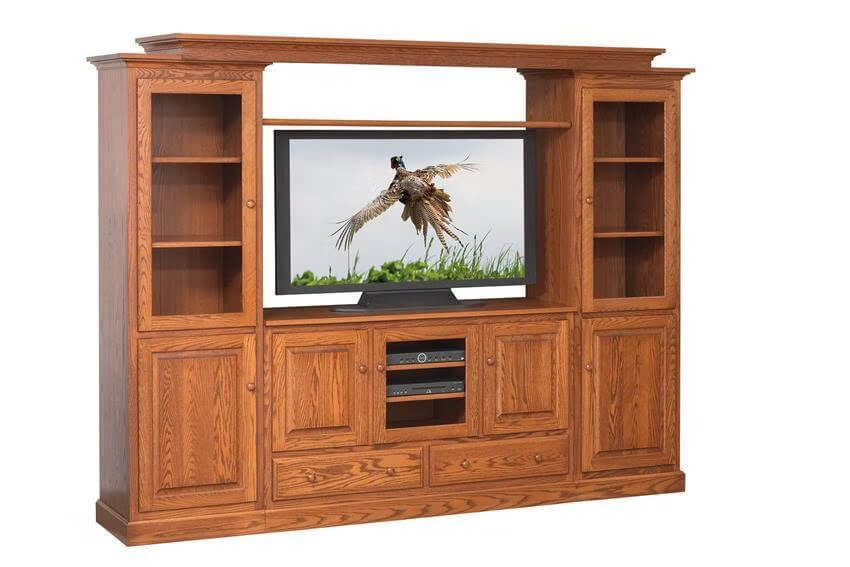 Oak Wood Cost
Oak is more widely available, making it cost less than cherry. Oak is one of the least expensive hardwood types for wood furniture, along with brown maple.
Benefits of Cherry Wood Furniture
Light and supple, easy to sculpt, carve and shape
Attractive reddish-brown tones
Smooth texture
Strong and durable
Stains and polishes well
Darkens when exposed to light
Cherry Wood Challenges
Darkens when exposed to light
Expensive
Softer hardwood that can sustain nicks and dents more easily
Benefits of Oak Wood Furniture
Highly durable
Offers good shock absorption
Resistant to moisture and corrosion
Visually pleasing
Prominent wood grain creates interest
Versatile wood option
Stains and polishes well
Radiates warmth
Showcases rich colors
Widely available
Lower cost for solid hardwood—more affordable
Oak Wood Challenges
Prominent wood grain
Not a good wood to paint due to grain pattern
Cherry and Oak Wood Comparison
Oak is more dense and more durable. Cherry is less dense and can dent more easily. Cherry is easier to work with than oak, and it's easier to carve and sculpt. Both are strong hardwoods, but oak is stronger and does not have to be watched over as much. Both are rich with beautiful colors. When it comes to grain pattern, the two couldn't be more different, with cherry taking a smooth, quiet course with its fine grain pattern and oak bursting forth with a variety of patterns. Cherry wood furniture costs more while oak is more readily available and costs less. Both are stellar candidates for solid wood furniture.
Tell us, in cherry vs oak for wood furniture, are you Team Cherry or Team Oak?