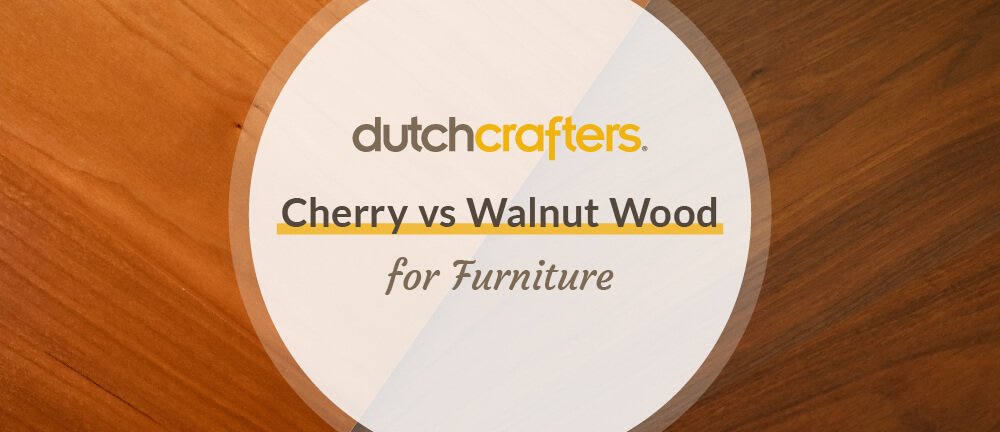 Cherry vs. Walnut Wood for Furniture
We take another close look at comparing wood types, and this time it's cherry versus walnut wood for furniture. Two popular wood types that are known and loved for their rich colors and distinguished looks, cherry and walnut have characteristics that make each of them unique. Let's look at what these woods bring in terms of colors, grain pattern, workability and style.
Cherry vs. Walnut
Some conversations might revolve around the stunning reds of cherry or the dark, exotic tones of walnut. Then there's that issue about cherry being described as a "soft wood," as well as the wonder regarding cherry's ability to darken over time and the fact that walnut actually lightens slightly with age. What should you know about these two wood types and what they contribute to fine wood furniture? Let's take a look.
Cherry Wood Color vs. Walnut Wood Color
Cherry
Cherry wood color ranges from blonde to reddish brown. Cherry heartwood, or the wood that is located close to the center of the log, starts out a light pinkish brown color and becomes a rich red brown over time. Cherry sapwood is a pale creamy yellow color. Cherry wood colors vary among trees.
Walnut
Walnut wood offers rich, brown colors that range from light to dark brown. The sapwood (outer part of the tree log) is pale yellow to white and the heartwood (center of the tree log) has brown shades that vary from light brown to dark chocolate brown with some dark brown streaks. You might find some purple or gray tones too. A natural oil finish can highlight walnut's colors nicely or you can enhance them with a dark stain.
Characteristics of Cherry Wood
One of the standout features of cherry creating both intrigue and enhancing its allure is its natural darkening over time with exposure to light. While darkening is expected and a hallmark of cherry wood furniture, it's important to take it into consideration when buying cherry wood furniture. You should pay careful attention to where you will position your cherry wood furniture. If it's partially exposed to sunlight, then the darkening will not occur evenly. Think also about what will be put on top of your cherry wood furniture, particularly if it's exposed to sunlight. Darkening could occur around the items that are kept on the furniture. Choosing the right spot for cherry furniture is important in order to ensure darkening occurs evenly.
Characteristics of Walnut Wood
Walnut is strong and durable. Walnut is easy to carve to add intricate detail to wood furniture. It won't warp and absorbs shock well. Walnut's color lightens over time (not as intense a change as the darkening of cherry). Walnut colors create beautiful contrast when it's used with other woods lighter in color. Walnut is stable, strong and hard, yet not heavy.
Cherry Wood Grain
Wood grain plays such an important role in the look of wood furniture, and cherry wood grain is fine, straight, simple and smooth. This closed, uniform grain pattern and smooth texture contribute to cherry's sophisticated look. There are some imperfections in cherry wood that interrupt the smooth flow of the wood grain, and they include pith flecks (worm trackings that create a brown mark), mineral deposits (aka pitch pockets or sap pockets) and black spots that can occur randomly (these pockets are where sap was once stored) or gum pockets and some knots. Sap cherry wood may have some streaking, pitch or gum pockets. Rustic cherry wood can contain these elements too, along with some open knots. These naturally occurring imperfections contribute to cherry's one-of-a-kind look.
Walnut Wood Grain
Walnut wood features a fine, straight grain and medium texture. Irregularities like knots can be found. Waves and curls can occur from knots being present in walnut wood. This only adds to the unique patterns you'll find in walnut.
Working with Cherry
Cherry is fantastic for intricate carvings and for ornate elements like those you'll find in Queen Anne furniture or colonial style furniture. Working with cherry is made easier by its straight wood grain. Cherry wood is easy to cut and work with. Woodworkers can shape cherry easily. It dries pretty fast, steams well for good bending properties and it's durable. It nails and glues well and offers a grain that's smooth and takes a finish beautifully. Rich stains work well with cherry's smooth grain as well as natural finish options. While cherry is loved for rich red colors, it's important to note that the red color actually comes more from the stain you choose to finish cherry wood than from the wood itself. It's undeniable that cherry wood's grain and subtle red tones showcase a red stain beautifully.
Working with Walnut
Walnut wood polishes beautifully. It's easy to carve, turn and it's a good wood for steam bending. It glues well. Walnut is easy to work with hand tools, nails and screws well. Walnut's dark exotic colors are not good for paint, but they look exceptional in dark stains or a clear finish like an oiled finish that accentuates walnut's hues, making it a top choice for executive office furniture that's built to impress.
Walnut Strength vs. Cherry Strength
While cherry is considered a softer hardwood, it is indeed, still a hardwood. You can rely on it for the durability and strength wood furniture brings. The "softer hardwood" label means it is important to take extra care with cherry wood furniture since it could show marks or dents a little easier than other hardwoods. The Janka hardness test that ranks the hardness of woods gives cherry a rating of 950, which is a little less than walnut. Walnut wood has a Janka hardness rating of 1010, pulling it out in front of cherry as the stronger wood of the two.
Comparing Cost: Cherry vs. Walnut
Walnut is often more expensive than cherry. Walnut trees are not as readily available as cherry trees. They also don't grow as tall, producing less wood per tree than other hardwood trees. Walnut wood doesn't usually come in long boards, meaning there are often more knots to work around. Walnut is considered a high-end premium wood and the cost reflects this. Cherry, in its own right, commands a higher price than the more budget-friendly oak because oak trees are more readily available than cherry.
The exquisite colors of cherry and walnut woods  are used for wood furniture, cabinets, flooring, doors, musical instruments, and decorative carvings. Both are used for many different furniture styles from formal to mid century modern. They both wear stain colors nicely or stand beautifully with a natural finish.
Which one would you choose? Walnut or cherry?