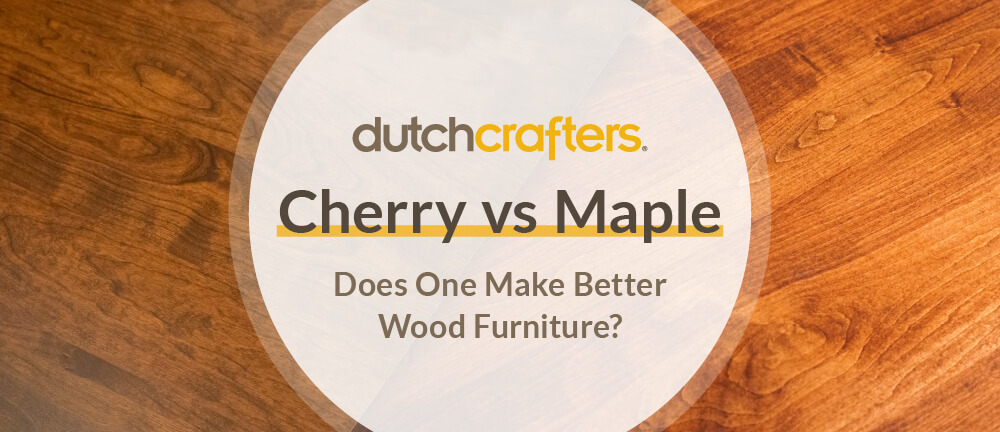 Cherry vs. Maple: Does One Make Better Wood Furniture?
There's a lot to know about wood types when it comes to building custom wood furniture. Durability, color, cost and features should all be considered before selecting a wood type for your new table, bed, desk or chair.
Two wood types, both quite popular in their own right, are cherry wood and maple wood. When it comes to cherry vs maple, does one make better wood furniture?
Let's take a look.
First we have cherry wood, one of the most popular and sought after wood types for solid wood furniture. Most of us have heard of cherry's elegance and durability, along with the red hues and the fascinating darkening cherry wood does over time with exposure to light.
Then there's maple, both brown maple and hard maple. The maples have smooth wood grain like cherry. Brown maple in particular offers versatility and strength, while hard maple stuns with its light shades, hardness and powerful strength.
Why do we compare them? There are similarities between cherry and brown maple in particular that are noteworthy. It has been said that brown maple mimics cherry with its smooth grain. With brown maple costing less, can you get the look of cherry for less? The differences between the two showcase different capabilities that are also important to note, since they may limit what you can do as far as staining or painting.
Facts About Cherry Wood
Changes in Color
While cherry has a fine texture and uniform appearance, its color can vary. Many are drawn to cherry's exquisite reddish-brown hues. Cherry wood is actually a pale color when first cut, but it's famous for its slow darkening over time when exposed to light, which turns the wood a rich brown red shade. This natural darkening generates lots of interest in cherry furniture. It's also something that owners must pay attention to in order to see that darkening occurs evenly. That's why it's important where you place your cherry furniture as consideration must be taken to where all or portions of the furniture could be exposed to light.
Cherry's grain pattern is rich and smooth. Some features you will find in cherry wood are small dark spots, flecks and mineral deposits (places where sap was stored at one time). It may contain pith flecks (worm tracks that create brown streaks) and pit pockets. Cherry furniture is elegant and exudes warmth.
Durability
While cherry is a softer hardwood, it is durable and a great choice for ornate chair or table styles. Even though cherry is a slightly softer variety of hardwood, it's one you can trust to stay strong. It can however, sustain nicks and dents more easily than other hardwoods, so owners of cherry furniture should take care that it is protected.
Finishing Cherry
Woodworkers like cherry because it has a uniform grain with a fine smooth texture and they can easily shape it and work with it to create exquisite carvings and turnings. In addition, cherry polishes nicely.
Cherry can be stained in a variety of light or dark stain choices, or it can be left in a natural finish. Cherry makes stunning dining room tables and is just the right choice for formal and traditional styles as well as transitional ones that blend traditional and contemporary.
Cherry Pros
Darkens with age
Easy to shape and polish
Exquisite color
Durable
Makes exquisite formal and traditional style furniture
Cherry Cons
Darkens with age
A bit softer than other hardwoods, more prone to dings and dents with heavy use
It's expensive
The Case for Brown Maple Wood
Brown Maple Colors
Brown maple often resembles the look of cherry wood. It contains combinations of browns, tans and creams with varying light to dark streaks that create unique patterns. It can contain some pitch fleck (where insects have carved out tunnels) or mineral streeks. Variations in brown maple wood also include birds eye which is sought after for its unique look. It's called birds eye because the pattern looks like small swirls with eyes.
Durability
Like cherry, brown maple is a softer hardwood. It's durable, but may sustain nicks or dents a bit more easily than other hardwoods like oak.
Finishing Brown Maple
Brown maple takes stains and paints well, and its smooth grain makes it a highly versatile wood choice, fitting both casual and formal furniture styles. Brown maple furniture can be stained with light or dark stains, but it works best in dark stains. It's possible to have some greenish mineral streaking in brown maple wood and this could show with a light stain. With a dark stain, the streaks add to a unique look, with some areas of the wood appearing darker than others.
Brown Maple is the go to wood choice for furniture you want to paint, because of its sleek, smooth wood grain and uniform texture. These qualities also make it an ideal wood for distressing to create an antique look. It's easy to cut and shape, and therefore can be used for different furniture styles.
Brown maple costs less because it is a common wood that grows quickly. It has lots of fans because it's similar to cherry but doesn't cost as much.
Brown Maple Pros
Smooth grain makes it suitable to stain or paint, opening up more options
Durable
Gorgeous in dark stains
One of the least expensive hardwood options, costs less than cherry
Mineral streaking creates unique pattern when stained with some areas darker than others
Brown Maple Cons
Softer hardwood so more prone to scratches and denting with heavy use
Looks better in dark stains due to mineral streaking in the wood
Have You Heard About Hard Maple?
Hard Maple Color
Hard maple comes from the sapwood (outer rings) of the tree. It's light in color, offering a gorgeous natural look. The pores of hard maple are less visible, which creates a smoother surface.
Durability
Hard maple is a strong wood, one of the hardest domestic woods, and it's denser, heavier and harder than brown maple, making it ideal for furniture that gets heavy use. It absorbs shock and resists wear. Hard maple makes great butcher blocks, pool cue shafts and wooden baseball bats.
Finishing Hard Maple
Loved for its hardness, light colors and smooth grain, hard maple can be stained or painted. It's very attractive in a natural stain, tung oil or linseed oil that brings out the unique qualities in the wood grain.
Hard Maple Pros
Very strong wood, highly durable
Attractive natural color
Resists warping and twisting
Hard Maple Cons
Costs a little more than brown maple
In Summary
Both cherry and brown maple are hardwoods of a "softer" nature. They are still plenty durable for strong wood furniture with a Janka rating of 950 for brown maple and a 950 for cherry too. Hard maple has a Janka hardness rating of 1450.
While brown maple costs less and features a smooth grain, it does not have the unique darkening element cherry offers. It also looks better in darker stains or paints due to its mineral streaks, and the stain may appear darker in some areas than others.
Cherry is more expensive, but earns its price with its smooth grain and rich cherry shades, as well as its even display of stain and its ability to be carved into detailed shapes.
Hard maple displays light colors, looks gorgeous in a natural finish, and can handle heavy use. What do you think? Is cherry, brown maple or hard maple the right wood choice for your furniture?