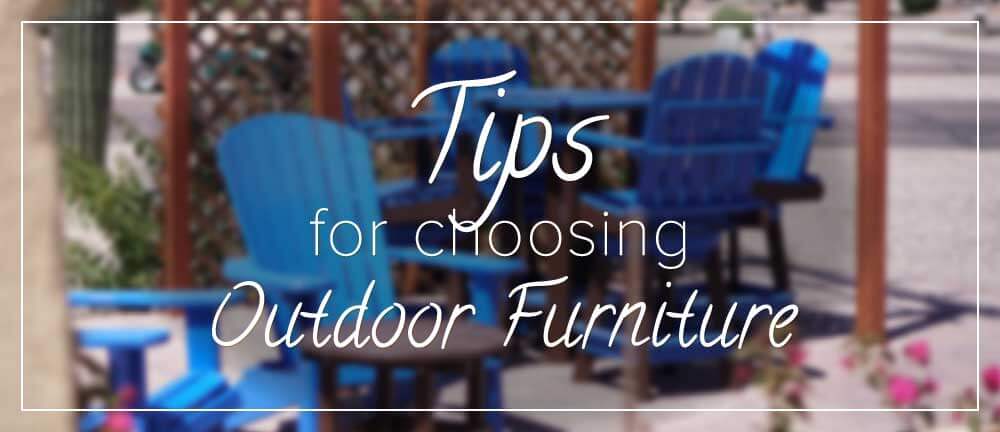 Tips For Choosing Outdoor Furniture
Creating an outdoor furniture collection that's attractive, comfortable, and supports your favorite activities is possible. Just follow these 5 easy steps to lead you to your best outdoor space.
Step 1. Measure Your Outdoor Space
What's it like outside your home? Is it a wide open area or a more compact space? Measure your yard and consider the space you have to work with. Get measurements for deck areas, patios and porches to determine the right set up for you.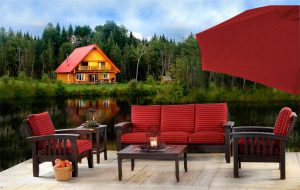 Includes:
1 mission sofa measuring 35" high, 79" wide and 36" deep
2 mission chairs, each measuring 35" high, 32" wide and 36" deep
1 coffee table measuring 16" high, 32" wide and 36" deep
2 accent end tables each measuring 24 ½" high, 15 ½" wide and 17 ½" deep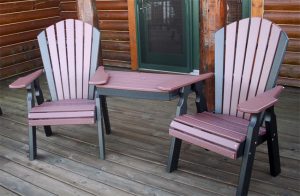 Chairs are each 32" wide and 44" high
Front table width is 24", back table width is 38", table depth is 17"
Step 2. Decide on Your Favorite Outdoor Activities
What is it you like to do and what outdoor furniture will you need to help host those activities?
For Entertaining: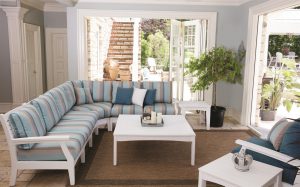 Includes:
1 corner section
1 right arm loveseat
1 left arm loveseat
Option to add right and left arm sofas
Total length measures 163.25", depth 38" and height 34"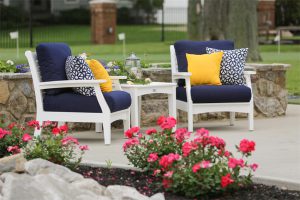 Includes:
2 Berlin Gardens Terrace Club Chairs, each having a total width measuring 30", total depth 29 ¾" and total height 34 ¼"
Seat and Back Cushions
1 Berlin Gardens Terrace End Table measuring 22 ½" wide, 23 5/8" deep and 20 1/8" high
For Dining: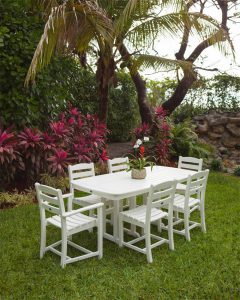 Includes:
1 nautical dining table measuring 36.75" deep, 71.5" wide and 29" high
4 La Casa Café Dining Side Chairs each measuring 21.25" deep, 17" wide and 34" high
2 La Casa Café Dining Arm Chairs each measuring 22" deep, 24.5" wide and 34" high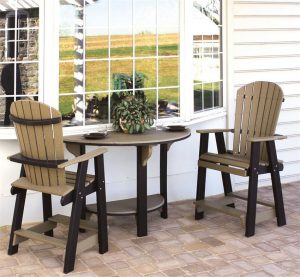 Or the Amish Poly Furniture Pub Table Set can host dining for two.
Includes:
1 half round pub table measuring 38" high, 22" deep and 46" wide
2 balcony bar chairs each measuring 53" high, 30" wide and 25" deep overall
For Hanging Poolside: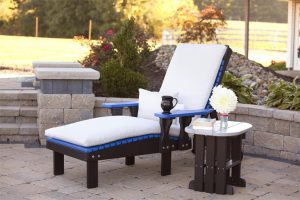 Measures 80" long, 34" wide and 44" high
Step 3. Consider the comfort factor.
What outdoor furniture looks good but will also be comfortable?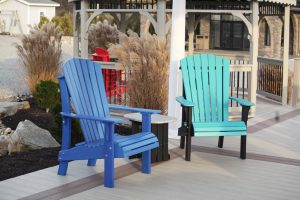 Chairs measure 31" deep, 32" wide and 44 ½" high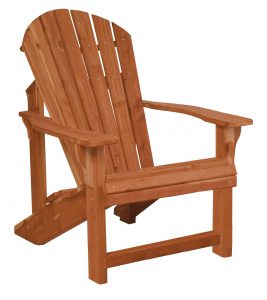 Measures 36" wide, 30" deep and 38 ½" high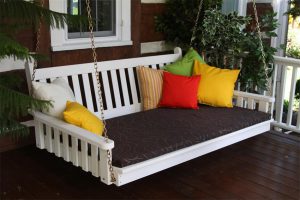 The Amish Pine Wood Traditional English Swing Bed comes in a 4', 5' or 6' length to best fit your space.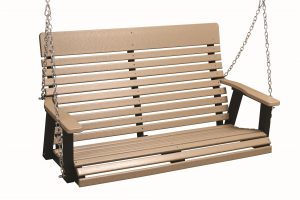 Measures 51" long, 28" high and 30" deep
Step 4. Go for easy maintenance.
You want to spend the least amount of time maintaining your outdoor furniture and the most time enjoying it. You can't go wrong with outdoor poly furniture that can withstand outdoor elements and won't rot, splinter or crack. An occasional wash with soap and water is all poly needs.

Wooden outdoor furniture made of cedar resists decay and repels insects with its fresh cedar scent.

Both the Amish Cedar Wood Bistro Bar Set and the Amish Cedar Adirondack Rocker are ready for a spot outside.
Step 5. Invest in quality to save money and receive better performing furniture.
Investing in quality outdoor furniture will have you enjoying your furniture longer and will save money in the long run.

Have fun setting up your outdoor areas with Amish outdoor furniture providing the perfect fit.