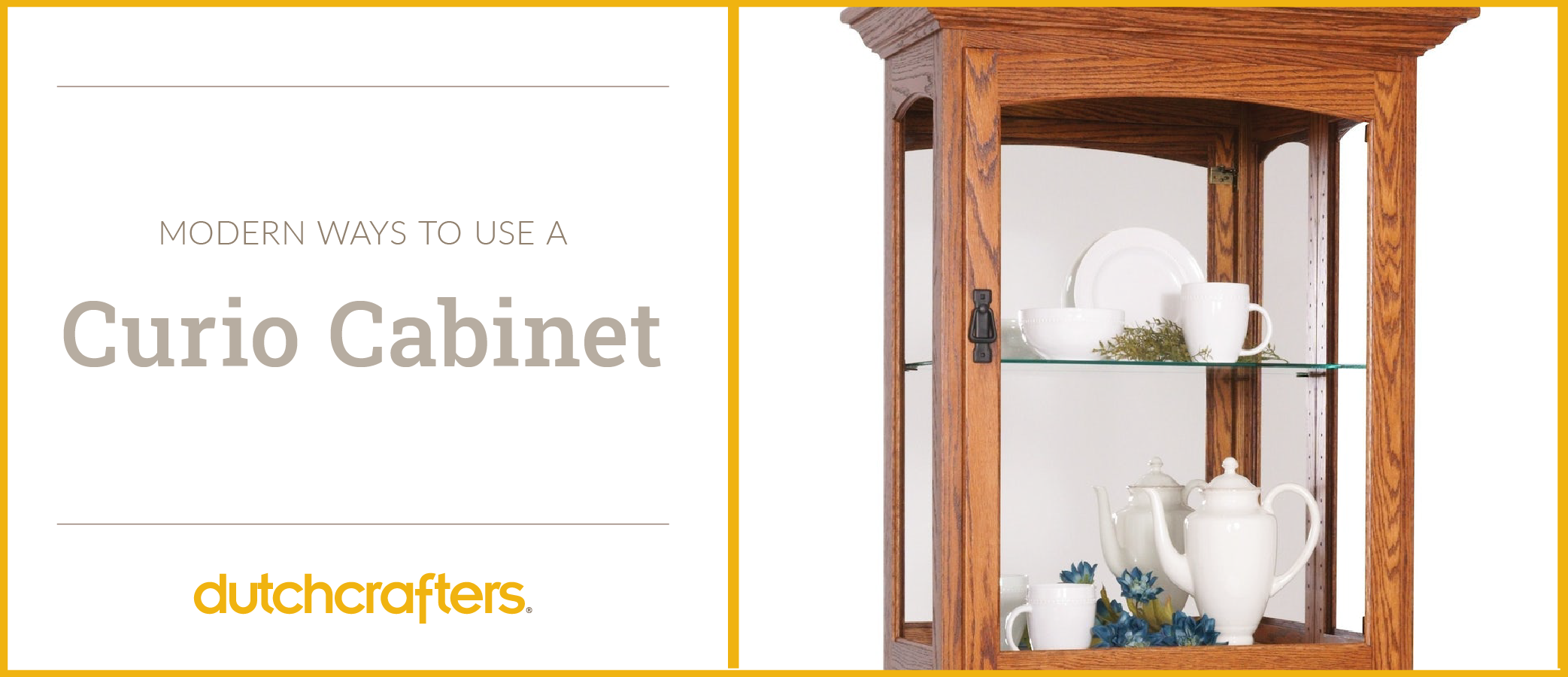 Modern Ways to Use a Curio Cabinet
Often categorized as an "old-fashioned piece of furniture," the curio cabinet is loved by some and avoided by others. The news is the curio display cabinet continues to maintain a fan base as it moves into modern design schemes. Unapologetic and versatile, they are used in both old ways and new ones. Modern ways to use curio cabinets have moved beyond just a dish or doll collection, and they've branched out throughout the home.
A small curio cabinet can be just the piece of furniture to fill an awkward space. A large curio cabinet can be just the right unit to display items, protect them and add to the design scheme of the room. While lovely, the curio cabinet is not limited to traditional style only, but embraces contemporary styles as well.
Curio Cabinet Design
The curio cabinet will most often contain glass shelves, sometimes adjustable ones. It will have doors that open on the sides or front. They come in all shapes and sizes, some on the tall and narrow side, others wider and shorter. Some models have storage drawers.
Consider these modern ways to use your curio cabinet.
To display a collection.
While this is the most common way curios have been used, they continue to be a go-to piece of furniture for displaying collections. Why? For everything from vacation mementos to china to awards, the curio cabinet provides both an attractive display space as well as protection from dust or curious hands. Even in the modern age, they provide a great way to showcase your collection without taking up a lot of room and without having items in the collection looking crowded or cluttered.
To dress up a corner or furnish an odd space.
Do you have that spot underneath the stairs that needs something to dress it up? Or perhaps an extended hallway or corner pocket in the family room? These are great spaces for a curio cabinet to add a touch of sophistication while providing additional storage.
To organize office supplies.
A curio cabinet can be used in the office to help organize files and store office supplies. Place some baskets on the shelf to hold small items like paper clips and pins. Stack some books on the lower shelf. Display awards for achievements at work. Remember a lower curio also offers the top surface you can use for additional display space. In an office, this space could be a spot for a lamp, vase, framed certificates of achievement or photos.
As elegant storage in the bedroom.
A lighted curio cabinet in the bedroom can elevate storage in an attractive way. Use a curio here for items you use in the bedroom but don't keep in the closet. One shelf could be for candles, another for books, another for your collection of perfume bottles. The bottom shelf can house blankets too. Add baskets to a shelf for small items like bobby pins or jewelry. The use of glass and soft lighting helps elevate the look.
As a catch-all in the hallway.
A small curio cabinet can provide just the piece of furniture to serve as a catch-all in the hallway or entryway. It can serve like a console table, part decorative, part functional. Display photos or vases or other collectibles, and add trays or baskets for loose change, keys, mail, charger cords and other essentials you need to take going and store upon arriving home.
If you think curio cabinets still look like the one your grandmother had, take a look at these. Curio cabinets are built in all kinds of styles and the curios from Amish country can be customized for your home.
Contemporary Amish Made Curio Cabinets
How can you customize an Amish curio cabinet?
An Amish made curio cabinet opens the door even wider to use a curio in the modern age. You can customize an Amish curio with options like the following:
Choice of wood type
Choice of stain/finish color
Choice of plain or beveled glass
Option to add additional shelves
Option to add lighting
Choice of wood or mirrored back
Choice of glass or wood shelves
The curio cabinet has earned its timeless appeal. They're ideal for living room or dining room and are becoming more widely used in other areas of the home. Their appeal lies not only in organizing and displaying items you cherish, but in functioning as furniture that helps share the story behind the items inside them. The curio, with its glass shelves and casing, promotes the cabinet beyond just a collection of open shelves.
The curio cabinet manages to keep up the pace in modern times. Do you have a curio cabinet? Where do you use it in your home?